An expert view on electric heating solutions today and in a fossil-free future
Electric heating solutions have come a long way in recent decades. Consistent improvements in design and technology, combined with higher insulation standards and an increased use of renewable energy, have turned them into an interesting option in many areas of application. So it is high time for a look at the current state of affairs and the future together with our inhouse expert Julian Stocks, Product Director for Radiators at Purmo Group.
Increasing consideration of electric heating solutions
Technological innovation, a changing political climate, a move towards carbon neutrality, … there are many factors that influence our daily lives, including the way we heat our buildings. Not only is low-temperature heating a popular choice today. In addition, demand for modern electric radiators is growing structurally across Western and Central Europe in countries that aren't known for electric heating.

"There are a number of factors that drive this growth beyond the large electric replacement markets in France and Sweden", says Julian Stocks. "Electric radiators are very easy to install and control, which is positive in both first-time installations and system renovations. On top of that, there is of course a move away from gas and oil boilers towards heating methods based on renewable or decarbonised energy. Electric radiators can be powered by both so they are a particularly future-proof solution moving forward to a more sustainable future. Finally, there is of course the spike in gas prices due to the war in Ukraine. Electric radiators offer an interesting alternative as they can help to create an independence from gas supply and soaring energy prices when combined with, for example, photovoltaic panels and even electric storage batteries."

Furthermore, electric radiators are also particularly suitable in certain cases. For example, if a building is not yet centrally heated during transitional periods or if heat is required selectively on particularly cold days. Also in holiday homes or summer cottages that only need to be heated for shorter periods of time or regions where the low outside temperatures during winter risk freezing the water circuits in a hydronic system.
Heating needs are coming down continually. Electric radiators offer a simple alternative and can increasingly be considered as a primary means for central heating.
Electric heating solutions for a sustainable climate
Some of the growth drivers tie in with the European climate law that's pushing to reduce greenhouse gas emissions and increase the use of renewable energy as an alternative for fossil fuels. "Our vision at Purmo Group is very much linked to this as we feel that perfect indoor climates should not cost the planet's climate", says Julian. "Electric heating is compatible with a healthy and sustainable indoor climate provided that the energy that's consumed is either renewable or decarbonised. Then we're not consuming the planet's finite resources. All EU countries, and most other industrialised nations, are already making efforts to progress towards cleaner energy use so we're on the right track."

Another related factor is the increased insulation standard for buildings today, which significantly improves their energy efficiency. "Houses built back in the twentieth century can consume from 250 up to 400, even 450 kWH/m2. For houses from the late 90s this already drops to 170 - 180 kWH/m2, while modern and very well insulated homes are down to only 50 kWH/m2 and below. So heating needs are coming down continually and the powerful emitters that were needed in the past are no longer a must. Electric radiators offer a simple alternative and can increasingly be considered as a primary means for central heating."
Energy management with electric heating solutions
The growing opportunities for efficient energy management in private buildings also facilitate the use of electric radiators. "In the past electric radiators were often chosen simply because they are easy to install and work well. Now, however, energy management technology allows us to generate energy ourselves with, for example, photovoltaic solutions and then either use it immediately, store it in a battery or feed it back to the grid. Self-consumption is a growing story that encourages the use of electric radiators since in that case the radiators are driven by energy from the sun or the wind. That's both sustainable and free, so a win for the planet and the end-user's budget", explains Julian.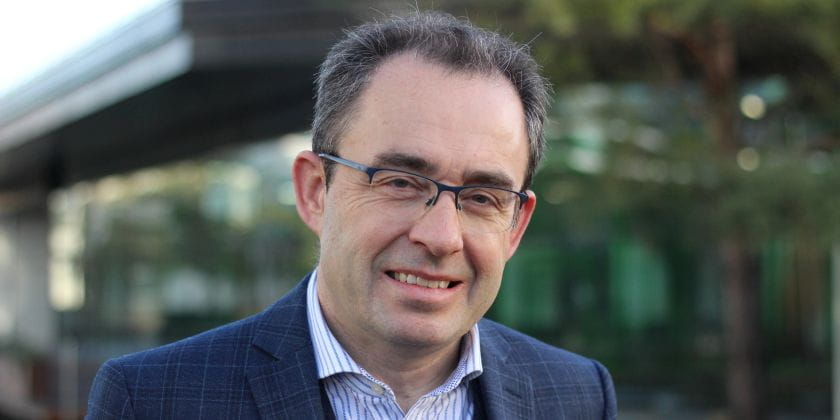 Innovation in electric heating solutions
Energy management technology is, of course, not the only area in which we have progressed. "Over the last few decades electric radiators have also become much more sophisticated and higher performing. Legislation in the form of the Ecodesign Directive has pushed the quality level up over time and driven manufacturers to innovate. We have gradually moved away from the dry electric convectors that simply heat up and even burn the air to modern electric radiators which are able to operate in combination with energy storage."

"Throughout the years we have seen many improvements in, for example, the shape of the radiators and the different materials that are being used, as well as innovation with oil-filled radiators and smart features such as presence detection or open window detection. And we should certainly not forget the controls. We've progressed from an on/off switch or simple thermostat control over remote control with infrared or radio frequency to connectivity with home automation systems such as Google Home or Alexa and intuitive apps on our smartphone so that we have full control over our radiators wherever and whenever we want."
Electric radiators are a great match for systems driven by self-generated energy and their use can easily be optimised with today's smart controls.
Oil-filled electric radiators
When talking about progress, Julian rightly mentions the innovation in the area of oil-filled electric radiators. This is a range that we at Purmo Group fully support and have invested in a lot over the years. "Our oil-filled electric radiators, such as the Yali Parada Plus, are filled with a vegetable oil that comes from a renewable source, so we eliminate finite fossil fuels", says Julian. "On top of that, the vegetable oil offers a few advantages with regard to performance. Firstly, it heats up the radiator evenly so that there are no cold spots. For this, however, it is important to get the right calibration between the volume of the heat emitter and the oil content. That is part of our expertise. Secondly, vegetable oil is also very durable. It lasts a long time, as opposed to oil of a lesser quality that breaks down over time, becomes less efficient and then needs to be replaced."
An outlook for electric heating solutions
Thanks to all the advances in design and technology, there is certainly a place for electric heating in the fossil-free future that we are progressing towards. "Electric radiators are a great match for systems driven by self-generated energy and their use can easily be optimised with today's smart controls. Moreover, installers are becoming more and more skilled in electric technology as well as more familiar with the smart control systems."