Hotel heating
Providing the right level of indoor comfort in hotels is good for business. Therefore a complete range of proven hotel heating and cooling solutions to ensure optimal, efficient year-round indoor climate comfort is essential.
Hotels are all about the experience. Whether it's a long-looked-forward-to holiday or a tranquil place to retreat to on a business trip, guests want to be able to relax and expect great indoor climate comfort. But hotels can have a considerable impact on the environment, which is why it's essential to consider energy efficient solutions too.
Hotels have constantly changing temperature requirements. Guests generally require warmth in the winter and cooling during the summer, so hotels commonly regulate indoor room climates with air-conditioning systems. These units tend to be centrally controlled, with the options for guests to manually adjust room units to meet their individual needs.
Fact
In hotels, being able to set specific areas to recommended temperatures can result in energy savings of up to 20%.
Solutions
Purmo provides hotel heating and cooling solutions designed to deliver optimal comfort and energy efficiency. Choose from a range of solutions that can be either centrally controlled or guest controlled.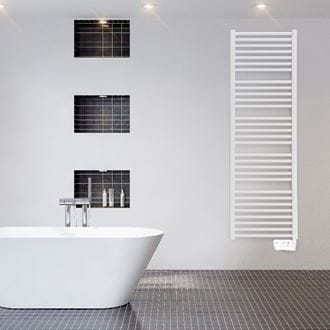 Design radiators
are also highly appreciated in hotels that require a special, individual style or interior. For example, a stylish design radiator in the lobby,
vertical radiators
next to large windows or
colored radiators
in the guest rooms give an extra touch to the indoor architecture.
Interview with an expert
Robert Curtz, Account Manager Projects, Belgium and Luxembourg
When talking about thermal comfort in a hotel, there are a lot of parameters to consider, including the diversity of the clientele but also the geographic location. In the bathroom, a nice radiant heat and safety is crucial for both users and owners.

In the bedroom part, it is essential to be able to cool the temperature in the summer period while providing sufficient comfort in winter, this is why we will prefer transmitters such as fan coil units or air conditioning.

The choice of control system for the units depends on the size and design of the different rooms. They can be used both for underfloor heating or for hydronic radiators or electric radiators.
Design radiators for hotel business
What do hotel guests want? What is important to hoteliers? As a heating supplier for a wide range of hotel projects, we have gained long experience to help our customers to find the right solution.