Purmo awarded Silver and Bronze in EcoVadis 2022 sustainability ratings
As a leading supplier of sustainable indoor climate comfort solutions, we commit to sustainable practices in every part of our business and are proud to see several of our plants awarded with an excellent, internationally recognised, sustainability rating.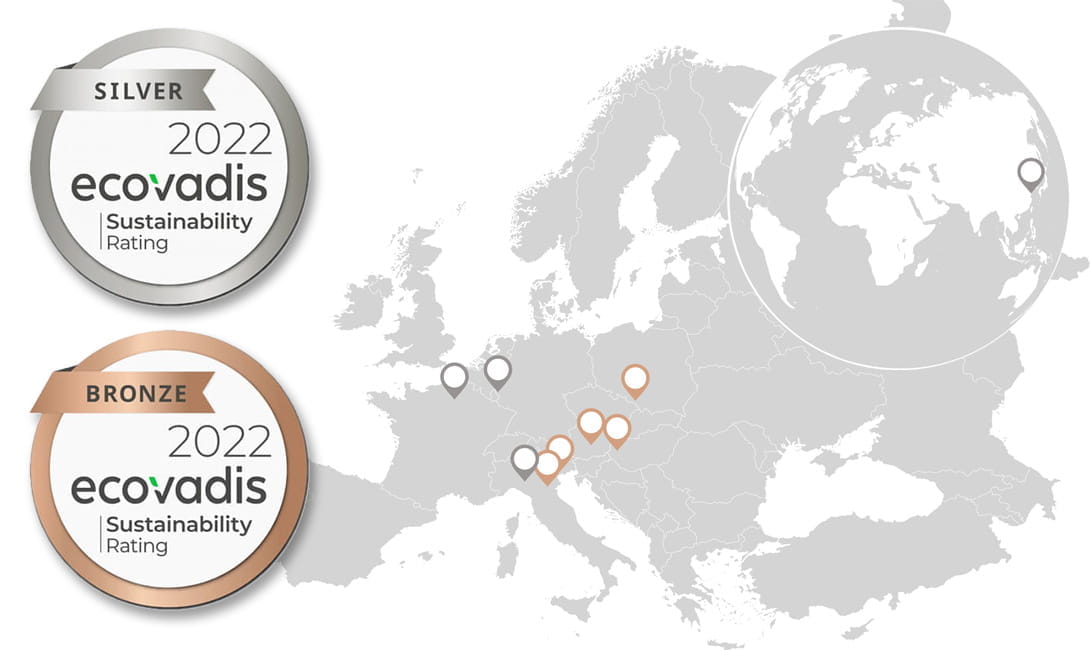 EcoVadis
EcoVadis is the world's largest and most trusted provider of business sustainability ratings. Since it was founded in 2007, over 100,000 companies in more than 175 countries and over 200 industries have used EcoVadis to assess and improve their sustainability performance and benchmark their sustainability achievements against other companies. Using 21 different criteria, an EcoVadis rating assesses a company's performance in 4 sustainability categories: Environment, Labour and Human Rights, Ethics and Sustainable Procurement.
Sustainability in our DNA
At Purmo, we integrate sustainability in every part of our business. From product design and material sourcing to production lines, packaging, HR and community engagement, sustainability has become part of our company DNA. Our vision that perfect indoor climate shouldn't cost the planet's climate guides us on our journey towards a more sustainable future. Part of our sustainability strategy is to work with partners worldwide to review, manage and improve our sustainability impact on a continuous basis.
2022 EcoVadis ratings
In the course of 2022 no less than 9 of our plants received an excellent EcoVadis sustainability rating. Five plants were awarded a bronze medal: Diemlach in Austria, Forcate and Vigonovo in Italy, Moson in Hungary and Rybnik in Poland. Four other plants even received a silver medal: Biache in France, Yangzhou in China, Zonhoven in Belgium and Brescia in Italy. The silver EcoVadis rating indicates that these plants are in the top 25 percentile.
These ratings are reviewed periodically. We'll of course make every effort to maintain and improve our ratings so that our stakeholders can be sure to cooperate with a sustainable partner who believes in the future and contributes to making change happen.
Sam Hodlin, Head of Sustainability at Purmo Group says: 'Our sustainability strategy is about producing lasting results in the long term. Although we're very ambitious, we know sustainability is also about making steady progress and growing as a company. We're delighted that these EcoVadis ratings reflect our sustainability efforts and progress. In the coming years we will of course continue to make every effort to reduce our environmental impact and harness growth opportunities, together with our employees, suppliers, customers and other stakeholders.'