A guide to choosing the right oil filled radiator
Whether you're looking for a convenient solution to heat a new building or renovating an old electric heating system, it can be a challenge to choose the right oil filled radiator among the extensive offer available. With the help of this guide, you'll quickly determine the best oil filled radiator for a comfortable and energy-efficient indoor climate.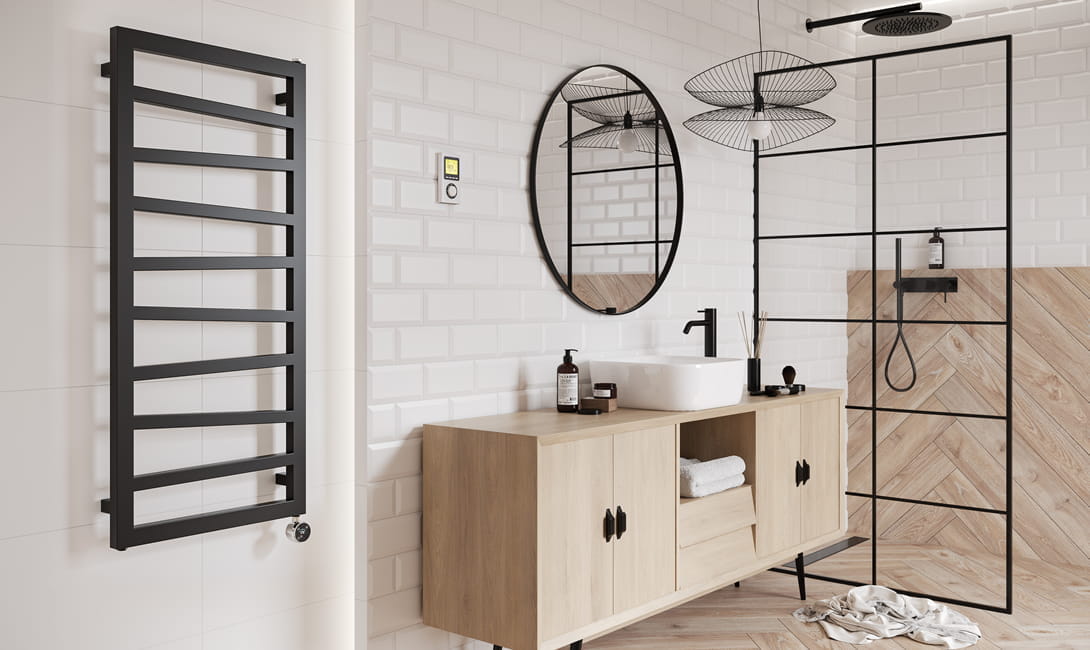 Comfortable heat
In this guide we'll focus on our
electric radiators
that are filled with vegetable oil. These silent and odourless radiators use their internal heating element to heat the oil inside. This means they can easily stand alone and can be installed nearly anywhere as they are not dependent on a pipe network. An oil filled radiator emits a natural, comfortable heat that consists of about two thirds convection and one third radiation heat. While the convection heat warms up the cold air that enters at the bottom of the radiator, the warmth emitted by the heated surface radiates into the room to heat the surrounding air.
A Purmo oil filled radiator maintains a low surface temperature, which means it never gets so hot that it cannot be touched. On top of that, it avoids dry air and doesn't burn dust, so that there's no unpleasant smell. All elements that contribute to a more comfortable indoor life.
Choosing the right power for your oil filled radiator
To enjoy a comfortable and energy-efficient indoor climate, it's important that your
oil filled radiator
has the right power. This depends on a variety of factors such as the degree of insulation, the dimensions of the room, the outdoor climate, etc. In an average house in a Nordic climate with standard insulation and a ceiling height of about 2.5 metres, for example, the power requirement is 70 to 75 W per square metre floor space. Considering the various factors involved, we recommend to contact your local electrician or retailer to help you determine the right power requirements for your oil filled radiators.
Length and position of an oil filled radiator
Since electric radiators aren't dependent on the central heating pipe network, they can be positioned nearly anywhere. However, an oil filled radiator is often placed under a window since the radiant and convective heat that comes from the radiator slows down the cold air that comes in through the window, making the room more comfortable. If there are wall vents to bring in fresh air, these should be located by the windows, so that the radiator can take care of the cold draft. Ideally, the radiator is as long as the window.
The importance of the right thermostat
The radiator thermostat is there to maintain an even temperature in the room by determining how much heat output the radiator should give off over a certain period of time. To do so, it's important that the thermostat measures the temperature as accurately as possible and that it's intelligent enough to quickly adjust and provide the required power.

Old radiators often have bimetallic thermostats. Yet, it's strongly recommended to equip your modern oil filled radiator with an electronic thermostat. This creates a more consistent indoor temperature and lowers the running costs since it allows for a proper and very precise temperature control and adjusts the heat according to actual need. A must if you want to achieve energy savings and keep your heating bill as low as possible.
Oil filled design radiators
In addition to the right thermostat, the right design is also very important. Luckily radiators are no longer the plump interior elements that they used to be. Keeping in mind that every item should have a positive impact on an interior, Purmo's designers have created a varied range of oil filled radiators. Ranging from the timeless shape of the
Yali
electric radiator to more creative designs such as the electric bathroom radiators
Impulse E
and
Squasy E
. For some models you can even choose from a range of over 70 different colours so that you can easily make your radiator a part of your interior design. Whether you like the modern look of a smooth front panel radiator such as the
Yali Parada
or prefer the retro style of the
Epok
, there's always a matching oil filled radiator.
Installing oil filled radiators
Once you have chosen your oil filled radiators and are ready to install them, it's important that you enlist the help of a qualified electrician. He or she will also help you to assess the correct heat output of the oil filled radiator if necessary.
If you are renovating your heating system, you'll see that replacing old radiators is much easier than most people think. An experienced installer can fit several radiators in one hour. However, keep in mind that they usually calculate an hour per radiator taking into account the various problems that can possibly be encountered.
If you live in a flat in an apartment building and want to update the radiators, it's important that you check with the property owner or housing association first to find out what's involved.
Oil filled radiators & sustainability
We all know that everything we produce has an effect on the planet. That's why Purmo doesn't just want to produce indoor climate solutions, but offer sustainable products. Thanks to modern production technology and the high-quality materials we use, the vast majority of our products can be recycled. For our oil filled radiators, only a biodegradable vegetable oil is used wherever possible.

Moreover, since our oil filled radiators are powered by electricity, it's possible to use green energy sources such as wind, water or solar-generated electricity. Combine this with the modern control system that allows for night setback and enables the radiators to react quickly and you can easily enjoy a nearly free heating system.
Learn more about our commitment to sustainable indoor climate comfort solutions