Purmo shares expertise in local HVAC trainings
At Purmo we have a lot of knowledge and expertise in house, which we like to share first and foremost with our customers to ensure an optimal implementation and easy installation of our products. However, we also realise the importance of proper basic training for every HVAC professional. So when wholesaler Peter Jensen (Hamburg, Germany) set up a foundation to support HVAC trainees through the industry, we were very happy to contribute and help put theory into practice.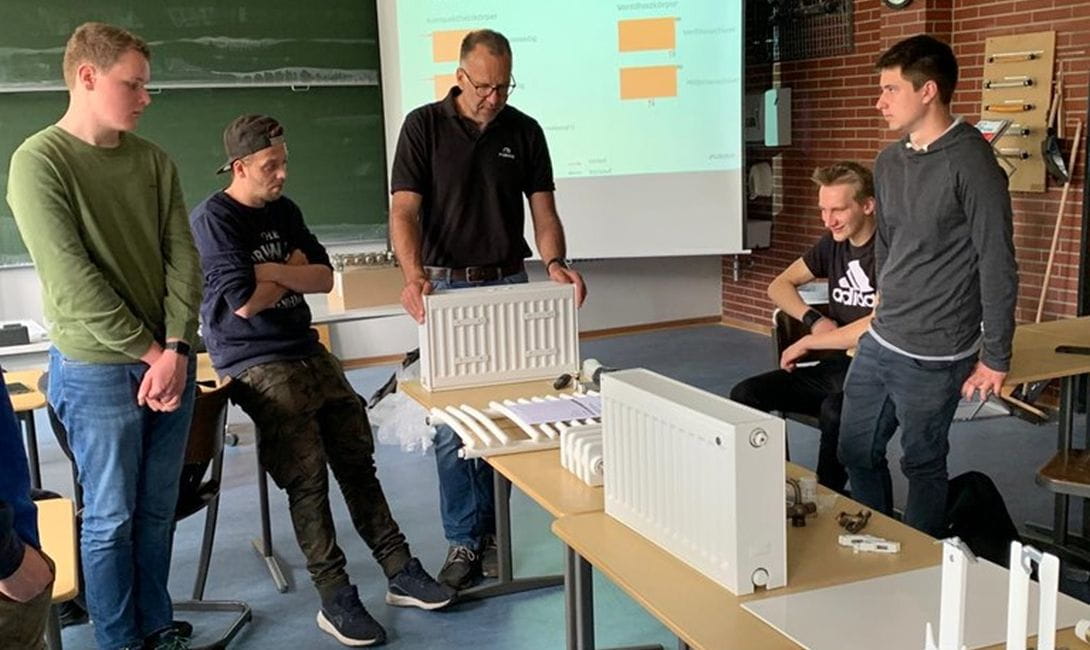 Proper HVAC training for a future-fit workforce
Like many industries, the HVAC sector is struggling with a shortage of skilled professionals and specialists. Proper HVAC training is therefore more important than ever to create a future-fit workforce. It is no surprise, then, that the initiative of wholesaler Peter Jensen was enthusiastically received by several vocational schools in northern Germany.
Heiko Hanke, our local Product Manager for Panel Radiators, reached out to the 7 interested schools. In consultation with the vocational teachers, an HVAC training session was planned in each school between March and September of this year. The focus here was on radiators. Topics covered include VDI 6036 guidelines, the use and purpose of radiators, (floor) brackets, hydronic balancing, connection variants and the manufacturing process.

Practice makes perfect
For Heiko it was very important to teach the students not only the theory but to also put this into practice. He divided the students into two groups and gave them the task to install a radiator with the help of assembly instructions and the appropriate tools.
"These trainees are of great importance to help future-proof our building stock with energy-efficient HVAC solutions. They can be our customers of tomorrow, so everyone benefits from providing them with a good foundation," says Heiko. "The HVAC trainings were a great success. The students were very enthusiastic and eager to learn. The close interlocking of theory and practice and the constructive dialogues we had, have led to promising insights."