Sustainability efforts Purmo Group France awarded with Silver EcoVadis medal
We are excited to share that Finimetal, the French Purmo Group plant in Biache, has been awarded the Silver EcoVadis medal for its sustainability efforts. This puts Finimetal in the top 25% of sustainable organisations worldwide according to the EcoVadis ranking system.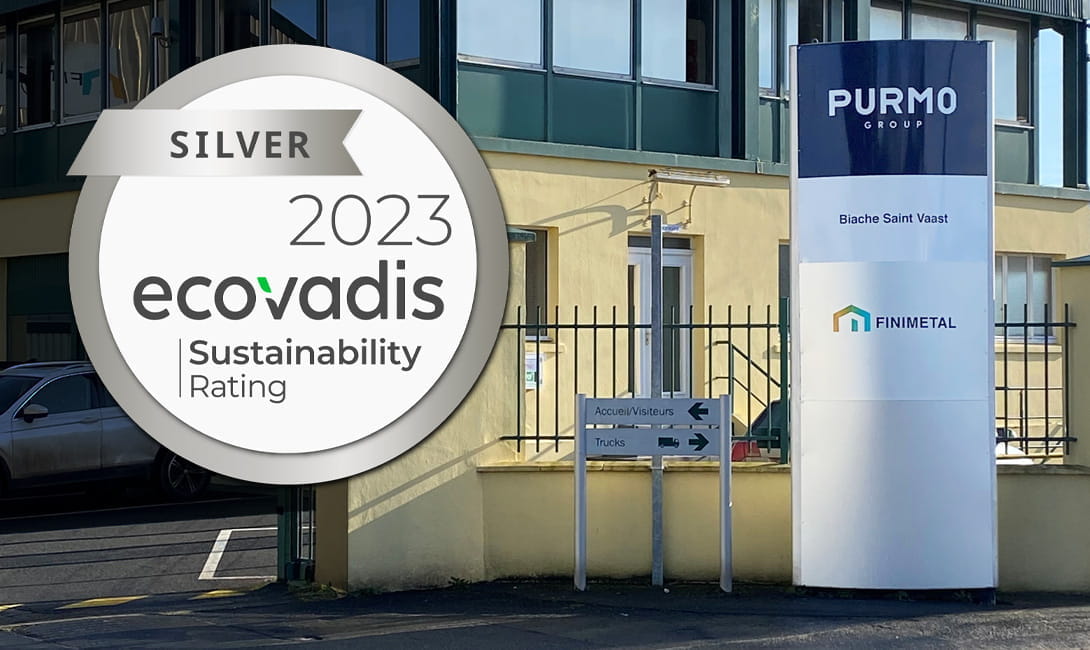 EcoVadis sustainability ratings
EcoVadis, the world's most trusted business sustainability rating platform, grades businesses against 21 sustainability criteria across four key categories: Environment, Labour & Human rights, Ethics and Sustainable procurement. EcoVadis' evidence-based ratings are validated by a global team of experts and are adapted to more than 200 industry categories, 160 countries, and companies of all sizes.
Each assessment is refined into a scorecard that not only provides scores from 1 to 100 in each of the four categories and the corresponding medal, but also offers benchmarks, insights, and a guided improvement journey for environmental, social, and ethical practices.
Aurélie Cahagne, Marketing Manager, says: "At Finimetal we integrate sustainability in all our activities, it's part of our company's DNA and allows us, together with our stakeholders, to make things happen." Cathy François, Purchasing Manager, adds: "In Purchasing, for example, we work closely with our suppliers to ensure that sustainability is at the centre of both our and their activities. Many of our partners already have an EcoVadis rating."
Silver EcoVadis medal
The criteria for the EcoVadis 2023 medals are as follows:
• Platinum (Top 1%): overall score between 78 and 100
• Gold (Top 5%): overall score between 70 and 77
• Silver (Top 25%): overall score between 59 and 69
• Bronze (Top 50 %): overall score between 50 and 58
With an overall score of 69 Purmo Group France came very close to achieving gold. However, we are very pleased with the Silver medal as it recognises the ongoing commitment of all the teams and departments in France to generate a positive impact on the fundamental issues of sustainable development. The EcoVadis rating helps us to celebrate, challenge and improve our sustainability efforts on a daily basis.
Audrey Destailleur, Human Resources Director, says: "Corporate Social Responsibility must be shared, sincere and authentic. The EcoVadis rating doesn't allow for mere superficial sustainability announcements, it's the results that matter. This creates a real collective awareness within the organisation, and only then can we say that the human dimension is essential."
Séverine Delacommune, Quality, Safety and Environment Manager, agrees: "We believe that our CSR commitment adds value to our company, our stakeholders and society at large. Initially our efforts to minimise our environmental impact and to improve the health and safety of our employees were recognised through ISO14001 and ISO4500 certifications. Now our EcoVadis rating also reflects our commitment to CSR and our desire to contribute to a more sustainable tomorrow."