Manifold cabinets for every need
Radiant heating and cooling is becoming an increasingly popular solution. Not only because of the many benefits for the end user, but also because it is easy to install. That is, of course provided that you have all the right components at your disposal. The radiant heating and cooling system, insulation, pipes and fittings are vital, but also the manifold and manifold cabinet shouldn't be forgotten. At Purmo we produce those ourselves so that we have full control over the quality and are able to offer our customers a complete radiant heating and cooling solution.
Manifold cabinet production
For several years now we have been producing manifold cabinets ourselves at our plant in Lilienthal (Germany). The growing demand for radiant heating and cooling systems, and therefore also for manifolds and manifold cabinets, has prompted us to redesign our production. We have invested in a state-of-the-art production line that punches and bends the metal plates meticulously and helps us to maintain excellent product quality. We now produce surface-mounted and flush-mounted manifold cabinets of different sizes every day. With 6 standard housing widths we are able to cover almost every need.
Watch a video of our manifold cabinet production

Complete range with manifold cabinets
At Purmo we strongly believe in the added value of complete solutions. The onWall, inWall and inWall S manifold cabinets we offer underline our position as a full-range supplier. Although, of course, we offer various
radiant heating and cooling systems
,
insulation
and
pipes
, we know that the
manifold
and
manifold cabinet
are just as important. We offer two versions for flush-mounted installation with the designations inWall and inWall S as a particularly flat version for thin walls. The onWall manifold cabinets are our surface-mounted version. There is a large selection of different sizes for all distribution cabinets.

Flush-mounted manifold cabinets
The depth of the flat inWall S flush-mounted cabinet, which is primarily intended for thin wall construction, can be adjusted from 80 to 130 mm. For this purpose, the flush-mounted housing and front frame are connected to each other in variable depths and can be flexibly fixed to the desired depth. The inWall flush-mounted cabinet is somewhat more spacious and offers a depth adjustment range between 110 and 160 mm. The height of the flush-mounted cabinets can also be adjusted variably from 690 to 800 mm to suit different floor constructions.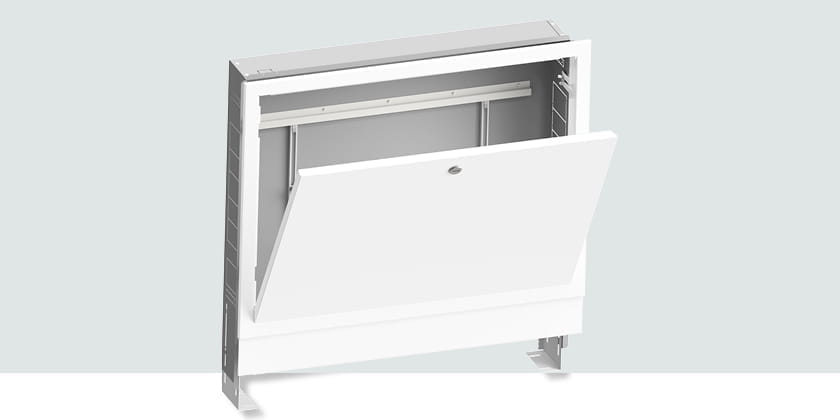 There are six different lengths to choose from, ranging from 400 to 1200 mm. For the larger radiant heating and cooling manifold cabinets, two closures are provided for stability reasons. The painted frames and doors are supplied separately and packaged in such a way that they can be stored in a separate location protected from dirt and damage during the construction phase.

Surface-mounted manifold cabinet
Our onWall surface-mounted manifold cabinet has a construction depth of 150 mm, a height of 700 mm and is supplied without a rear panel. This means that the manifold cabinet can only be mounted above the underfloor heating manifold after all work has been completed. This prevents damage during the construction phase. However, a separate rear panel is also available on request, on which the distribution board can be mounted on a rail, as with the flush-mounted cabinet. Here, too, there is a choice of six construction lengths from 450 to 1250 mm.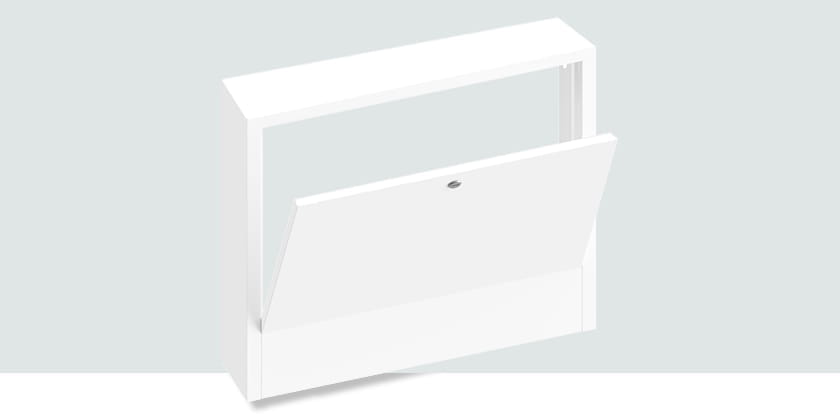 The visible parts of the manifold cabinets are made of sheet steel coated in RAL 9016. The installation box of the flush-mounted cabinet is made of galvanized sheet steel. An additional foil protects the painted surfaces during the construction phase. The packaging material is recyclable and can be easily disposed of on the construction site.
Don't hesitate to
contact us
for more information about our manifold cabinets or advice tailored to your radiant heating and cooling project.