Purmo Flex: the radiator that excels in flexibility
The fact that our
panel radiators
are available in various dimensions, colours and designs is nothing new. The Purmo Flex, however, brings something new to the table in terms of personalisation and flexibility thanks to a freely selectable valve position. This allows you to easily swap the radiator valve from the right to the left side and ensures a particularly trouble-free and quick assembly.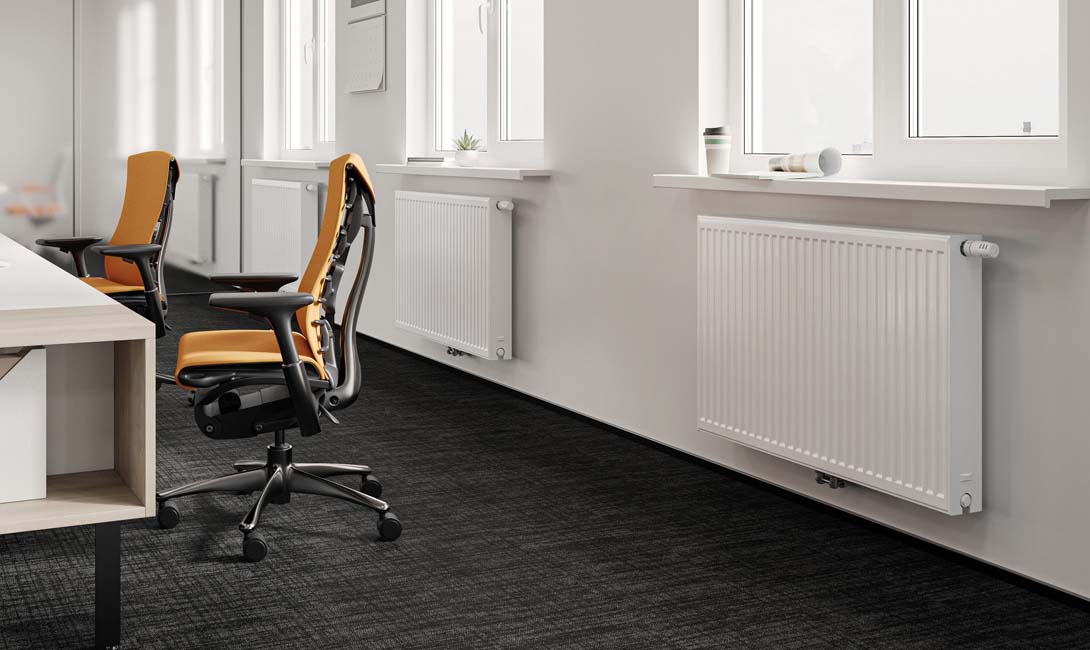 Golden middle connection
Based on the proven 6-connector technology, the Purmo Flex has a centrally positioned integrated valve set that now makes it possible to swap the valve from the right to the left side. This allows for maximum flexibility in both planning and installation since the central connection simplifies the arrangement of the pipes in the construction or renovation phase.
On top of that, the same connection dimension applies to all multi-layer radiators so that the complete heating pipe network can easily be pre-assembled and installed with the help of the Purmo installation plate without having to mount the radiators.

3 different designs

The Purmo Flex is available in 3 different designs. The Plan Flex has a flat front for a sleek and modern finish. For those who prefer a little more structure, there is the Flex with a profiled design and the Ramo Flex with a fine-profiled front. Each of these designs is available in a variety of dimensions and colours so that it is very easy to select the Purmo Flex radiator which blends in perfectly with the room's interior design.

Readily available
The Purmo Flex doesn't only stand for the highest standards in terms of appearance, flexibility, performance and ease of installation, it also allows for a significant shortening of the delivery time. Instead of having to wait on a special order for the left-hand version, you can use the same radiator for both right-hand and left-hand valves thanks to the freely selectable valve position and have the Flex radiator up and running in no time. A great advantage for both
private housing
and commercial buildings such as
offices
, hotels,
schools
, etc.