2 horizontal panel radiators compared: Compact vs. Ventil Compact
Horizontal panel radiators are one of the main components in our product range. Within this assortment the
Compact panel radiator
has always been a popular choice. However, as our range of horizontal panel radiators evolves and expands, we see that there is a shift towards the
Ventil Compact
. In addition to new buildings, this panel radiator is also increasingly used in renovation projects. To help you determine which is the better radiator for your specific project, we're happy to present this product comparison.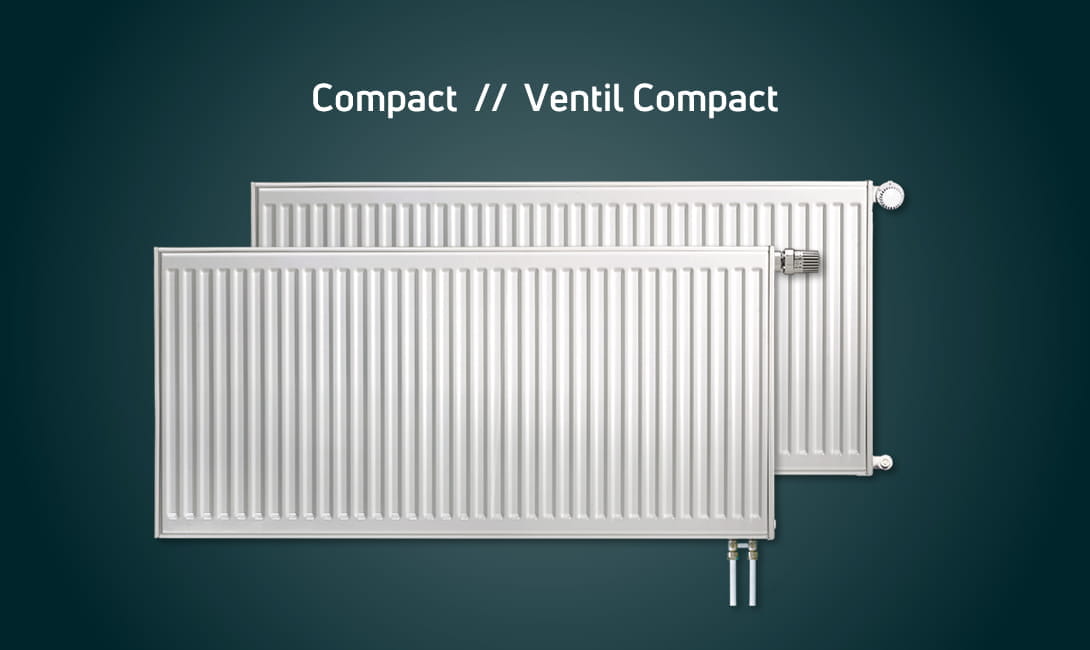 Renovation vs. new build
There are several factors that play a role in the popularity of the Compact panel radiator. In addition to the very interesting price-performance ratio, there is the fact that the Compact allows for the existing heating pipes to be used when you want to renovate your heating system. This makes it easy to quickly replace your old radiators with new ones, so that you are never without heating and don't have to worry about major construction work. It's therefore not surprising that this traditional
horizontal panel radiator
is mainly used in renovation projects. At the same time, Ventil Compact radiators that were installed 35 years ago are now also being replaced. The replacement is mostly possible in occupied condition.
For new buildings, the Ventil Compact is standard. Again, there are several factors at play here, but one of the main reasons is the combination of an invisible internal pipework and a built-in thermostatic valve. Its elegant connection from below allows for the connection pipes to be cleverly concealed so that visually disturbing pipelines are reduced to a minimum. On top of that, the thermostatic valve is already integrated and doesn't have to be ordered separately. Here, experts only have to install a suitable thermostatic head.
Powerful horizontal panel radiator
Another reason why the Ventil Compact is a popular choice for new buildings is its availability in the extremely low installation height of 200 mm. This is particularly useful, for example, in buildings with floor-to-ceiling windows. The Compact panel radiator starts at a height of 300 mm. Both radiators are available in types 11, 21, 22 and 33, but the Ventil Compact is also available in the powerful type 44. This means that a suitable radiator is available for every heat demand. The radiators are suitable for flow temperatures from 45°C to 110°C and can therefore also be used in low-temperature heating systems.
Time saver
In addition to the thermostatic valve that's already built-in in our
Ventil Compact
horizontal panel radiators, the blind and vent plugs are also already screwed in. This allows the Ventil Compact to be installed even quicker than the
Compact panel radiator
which is delivered with the self-sealing vent and blind plugs, but requires them to be screwed in during the installation. Especially in larger projects with multiple horizontal panel radiators, the Ventil Compact can prove to be a real time saver.
Flexible horizontal panel radiator
Another advantage of the Ventil Compact radiator is the versatile connection options, which can be connected both laterally, like the Compact, and from below. For a side connection, the valve insert must be removed and the lower connections sealed with brass blind plugs.
The lugless Ventil Compact is also a very flexible panel radiator, as types 21S to 44 can be rotated. This saves space for the wholesaler, who doesn't have to worry about double stock keeping.
Finally, both radiators come with a fixing kit with screws and dowels, which certainly makes the lives of the installers easier.