Designer radiators to match every interior style
For a long time, radiators were just a practical accessory in the room, sitting quietly in the background to provide warmth when and where it was needed. Since the introduction of
designer radiators
, however, they play an important role in interior design and are a perfect match for any style, ranging from an industrial or sleek white interior to décors with lots of natural materials or a design bathroom in need of a finishing touch.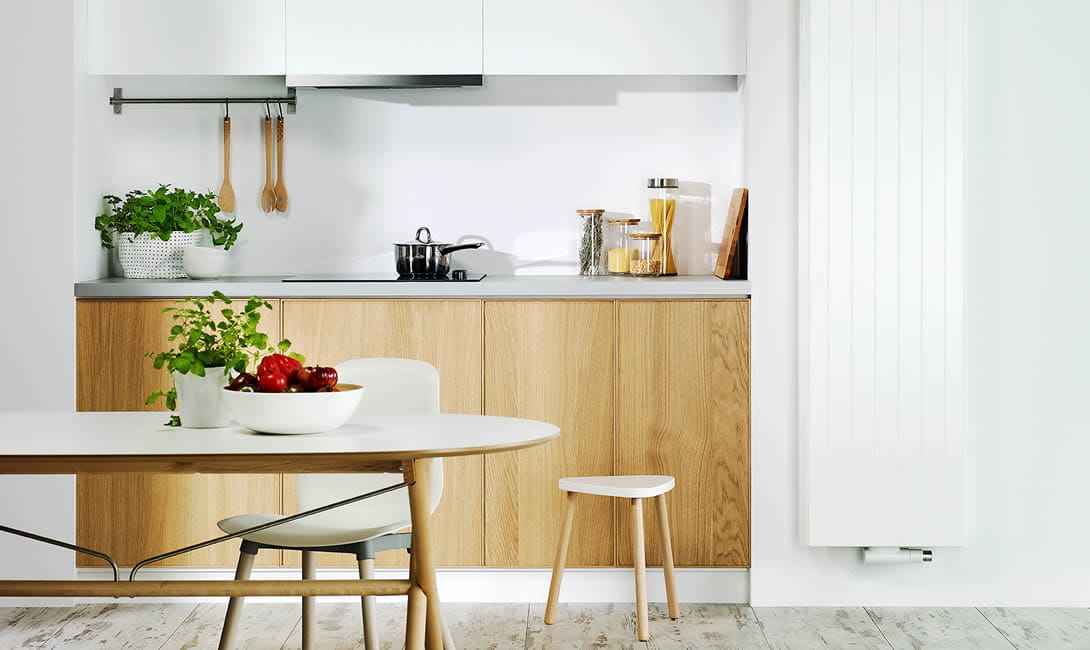 Designer radiators for an industrial style
The industrial style is inspired by the rough look and feel of factories and warehouses and typically incorporates raw materials such as brick and metal. Interior details in sheet metal or shiny metals such as rose gold or copper fit in perfectly here. This can, for example, be incorporated in the tap work, but Purmo's vertical designer radiators such as Faro V, Paros V, Kos V and Tinos V are a great match as well since they are made of cold-rolled steel. Moreover, these radiators are available in a variety of sizes and metallic colours which align perfectly with an industrial style interior.
Designer radiators for sleek white interiors

For those who like modern white interiors, designer radiators present an opportunity to add a splash of colour. Most of Purmo's designer radiators are available in a wide range of colours. So why not let the radiator take up a central role in the interior and create an eyecatcher that's both practical and beautiful to look at? You can keep it subtle with a soft tone or go all the way with a design radiator in a brighter colour such as green, blue, yellow, etc.
Designer radiators in a natural interior
Natural interiors are often about keeping it pure and simple. They are created in neutral colour palettes and incorporate warm, natural materials such as wood or polished stone. Designer radiators in an earthy tone are a great match for this type of interior. Or how about one of our special column radiators such as the
Delta Bar
or
Delta Bench
, which already incorporate a wooden element? Thanks to their great functionality and discrete look they'll blend in perfectly in a natural interior.
Designer radiators in the bathroom
A bathroom can be very stylishly decorated, but without the right heating it's just a cold room that you don't want to spend too much time in. By simply adding a
design bathroom radiator
, you'll not only be comfortably warm but also enjoy a bathroom interior that's right down to the last detail. Our Figuresse range of bathroom radiators caters to a wide range of tastes. From designer radiators with a unique shape, such as
Ellipse
or
Impulse
, to more rectilinear models such as
Squara
,
Slim
or
Rasp
, there's a perfect match for every bathroom.