Product comparison: Vido vs. iVector S2/Vido S2 fan convectors
At Purmo, we constantly strive to innovate indoor climate solutions and that also means product innovation within our own portfolio. That's why we've recently re-examined the Vido fan convector and are happy to introduce the newest generation of fan convectors with the iVector S2/Vido S2. We gladly discuss in more detail exactly what improvements we've made and which interesting features are now incorporated.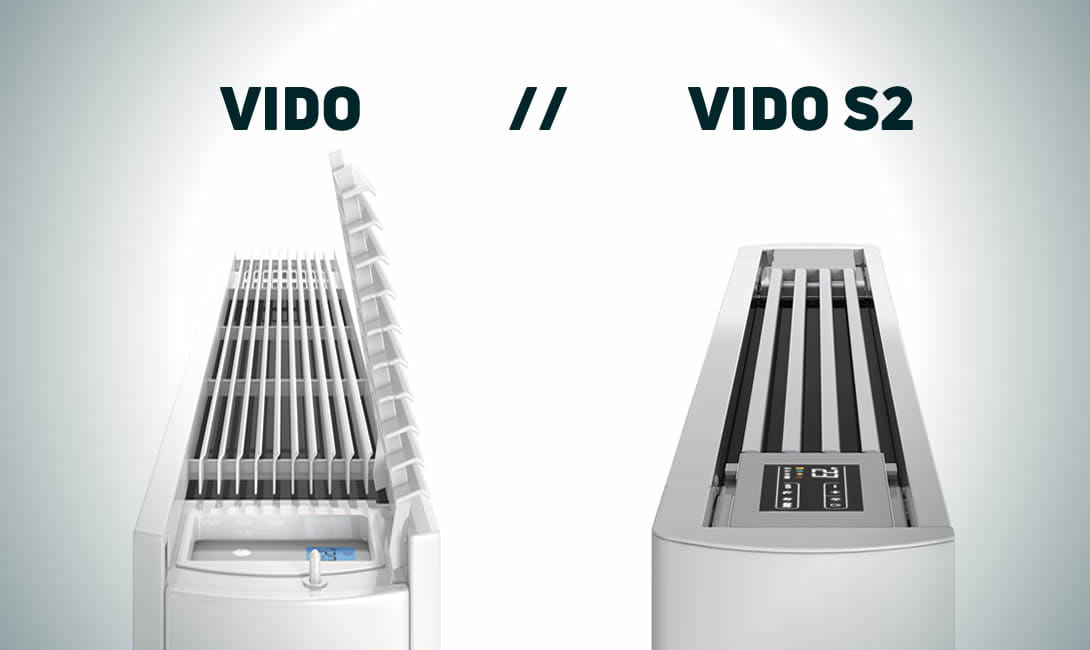 Refined design
When you place the Vido and iVector S2/Vido S2 fan convectors side by side, the first thing you'll notice is the updated design. Whereas the Vido is a more traditional boxy fan convector, the iVector S2/Vido S2 has a slimline Italian design that allows for integration in every room and every interior style. This also shows in the more compact dimensions which allow for a space-saving installation without comprising on the high heating performance.
The Vido has a height of 595 mm, a depth of 153 mm and is available in 5 lengths between 800 and 1600 mm, while the
iVector S2
/Vido S2 has a height of 576 or 639 mm, depending on whether you choose the 2-pipe or the 4-pipe version, a depth of 129 mm and is available in 5 lengths ranging from 735 to 1535 mm.
Various installation options
Thanks to the updated product design the iVector S2/Vido S2 now allows for great interior design flexibility with various installation options. In addition to the standard on-wall mounting, it is now possible to place the iVector S2/Vido S2 on feet or to opt for an in-wall installation. Ceiling-mounted and ceiling installation are also available options. To facilitate all installation types, we also offer a full range of accessories, including metal casings and covers for in-wall installation, air flow ducts for ceiling mounting, etc.
Fast-reacting sustainable climate control
In addition to the changes that are visible from the outside, the iVector S2/Vido S2 also incorporates internal updates in line with today's needs. After all, the changing environmental conditions demand a combination of indoor comfort and energy efficiency, which in turn creates a need for heat emitters that can be controlled and react quickly and efficiently. The combination of fan support and a low thermal mass allows the newest generation of fan convectors to be better controlled in order to meet comfort requirements at all times. Additionally, advanced motor technology ensures a whisper-quiet operation so that the iVector S2/Vido S2 offers the best heat output with the lowest imaginable noise level.
Moreover, the iVector S2/Vido S2 can easily be combined with a heat pump to operate at very low system temperatures for significant energy savings. If you pair it with a reversible heat pump the new fan convector is also able to both heat and cool for fast-reacting sustainable climate control all year round.
Control options
Although the controls of the Vido have always been focussed on user-friendliness, the newest generation fan convectors offers an even better user experience thanks to its intelligent control system. The iVector S2/Vido S2 has a full range of control options, including a simple on-board as well as remote control, and can be integrated with other building management systems to improve indoor climate comfort in any building.
If you have any further questions about the Vido and the iVector S2/Vido S2 or about our product improvement approach, don't hesitate to
get in touch with your local sales representative
.