Traditional column radiators: true stars in versatility
Traditional column radiators remain a favourite among added-value seekers as they effortlessly combine classy looks with high performance. They add a touch of authenticity to any room, whether it's a classic or modern interior. It is precisely this versatility that gives rise to the popularity of our column radiators. And that flexibility goes far beyond mere looks. Just think of the many applications, connection and fixing varieties, etc.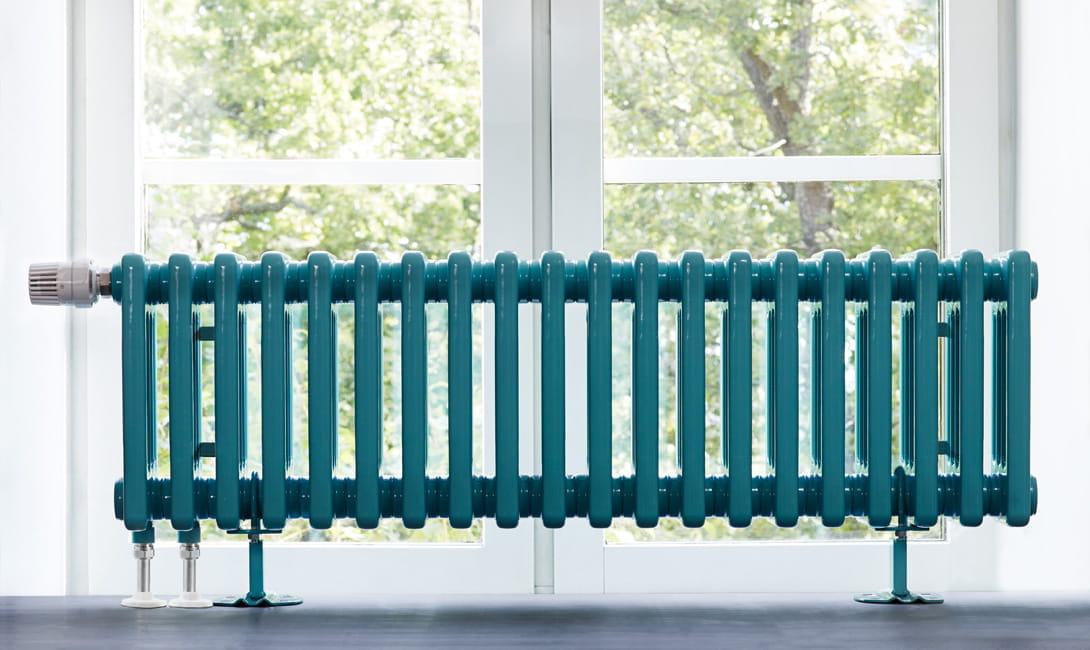 Traditional column radiators: from bathroom to nursery school
When you search for traditional column radiators in private housing or residental applications online, you'll find plenty of pictures in a living room or bedroom setting. However, column radiators are suitable for a much wider variety of rooms. For use in bathrooms and kitchens for example, our Delta column radiators are available in galvanised versions so that they can also be installed in splash water areas. A hot-dip galvanised version is even available on request for use in, for example, shower facilities, greenhouses or canteen kitchens.
Thanks to the wide range of radiator brackets available for safe installation, our traditional column radiators can meet the needs of almost any setting. Ranging from standard brackets for regular residential use to VDI 6036 high load consoles for use in schools, prisons, mental healthcare facilities, etc., there is fitting solution for every situation so that safety can always come first. The quality of our Delta column radiators is even further enhanced by the precision laser welding technique that we use to produce this type of radiator. This means that there are no protruding welding burrs on the inside or outside and no welding residues in the radiator. Consequently, the radiators have a smooth surface without sharp edges, so that there is practically no risk of injuries or cuts. Ideal for curious children exploring the room at home or at nursery school for example.
Finally, our traditional Delta column radiators are also a good fit for rooms or buildings with special hygienic requirements, such as hospitals, laboratories, medical practices and care facilities. Their 50 mm link spacing offers plenty of space for easy cleaning. On top of that, the absence of welding seams means there are no protrusions for dust to get stuck on.
Read more about our hygiene radiators
Traditional column radiators in every shape and size
Although traditional column radiators are often depicted as a regular horizontal radiator, our Delta radiator range is much more versatile when comes to available shapes and size. The column radiators are available as a 2-column up to a 6-column. Available heights range from 300 to 3000 mm and lengths from 200 to 2500 mm. In addition to the standard installation heights, any height between these parameters can be delivered with an accuracy of a millimetre, so that the radiator can be installed without having to make any changes to the existing pipe network.
Moreover, we offer both horizontal and vertical versions and even bent or angled column radiators are among the possibilities. Additionally, we provide special column radiators that integrate a traditional column radiator in a bench or bar.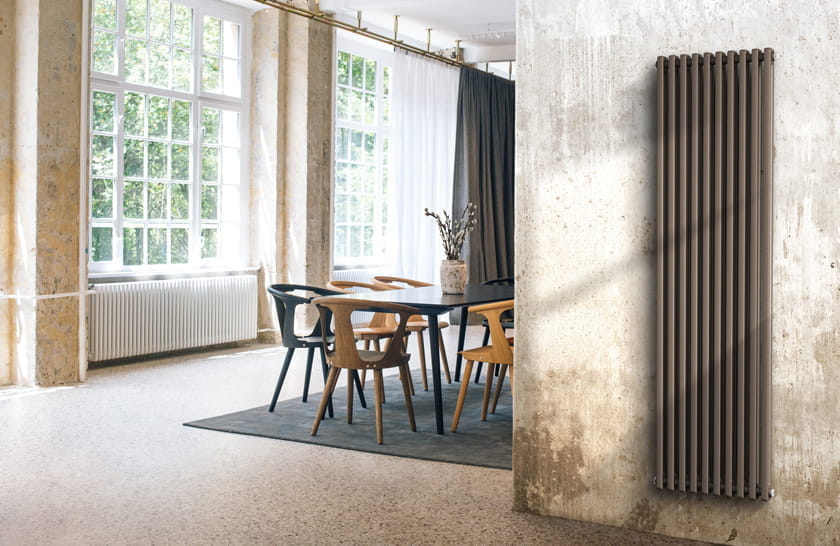 The standard colour of the Delta column radiators is traffic white (RAL9016). However, they can be produced in up to 70 different colours, including appealing metallic colours to match any interior. So whether you want an eye-catcher in bright blue or red or prefer a column radiator in soft green or grey that blends in seamlessly, the options are many.
Find out more about the various colour options
Traditional column radiators with a unique design
Our Delta column radiators also offer great versatility on a more technical level. The variety of available fixings and connections ensures an easy installation. You can, for instance, opt for a bottom, side, top-to-top or riding connection, depending on the application and situation at hand. That is especially useful in renovation projects to facilitate the replacement of old radiators with Delta column radiators.
Also when switching to a low temperature heating system, our Delta column radiators are well worth considering. The expressive front of the D-shaped profile pipes, the absence of screw plugs as well as the slim, elegant 1-inch hub, provide the unmistakable modern design of the Delta tube radiator. Additionally, the D-shaped profile pipes contribute to an increased performance compared to a conventional round pipe. This creates a higher sense of comfort and a more attractive appearance, but also means that, when sized correctly, the column radiators can provide sufficient warmth to meet the heat demand even at low system temperatures.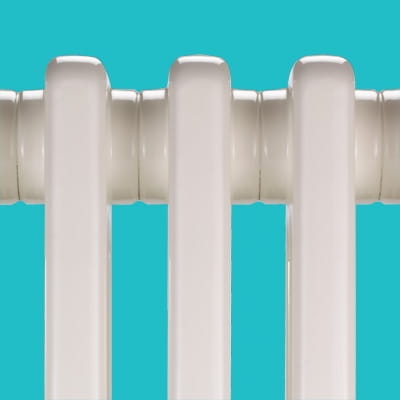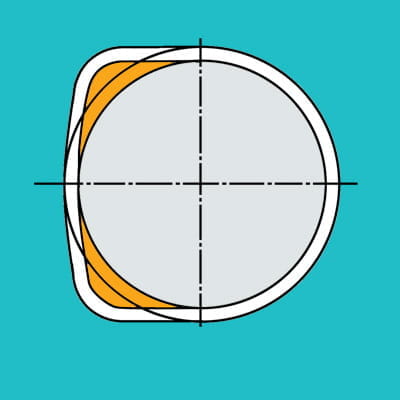 Furthermore, the Purmo column radiators can be considered as an alternative to low radiators or convectors, which are often used in front of floor-to-ceiling windows, since the 50 mm spacing between the D-shaped profiles allows for easy flooding of the light. However, they aren't just available for hydronic heating systems. They can also be provided in a purely electric or bivalent version. Even for buildings or rooms that are heated electrically, these radiators offer a stylish solution. To increase comfort, the electric column radiators are supplied with a user-friendly radio remote control.