Trench heating: the perfect partner for large windows
Floor-to-ceiling windows remain very popular as they maximise the view and light coming into the room. However, as all windows do, they have a tendency to create cold downdraughts or heat loss. While radiators are often installed below a window to instantly catch the cold, this is not an option for large windows reaching from ceiling to floor. In such cases trench heating offers the perfect solution.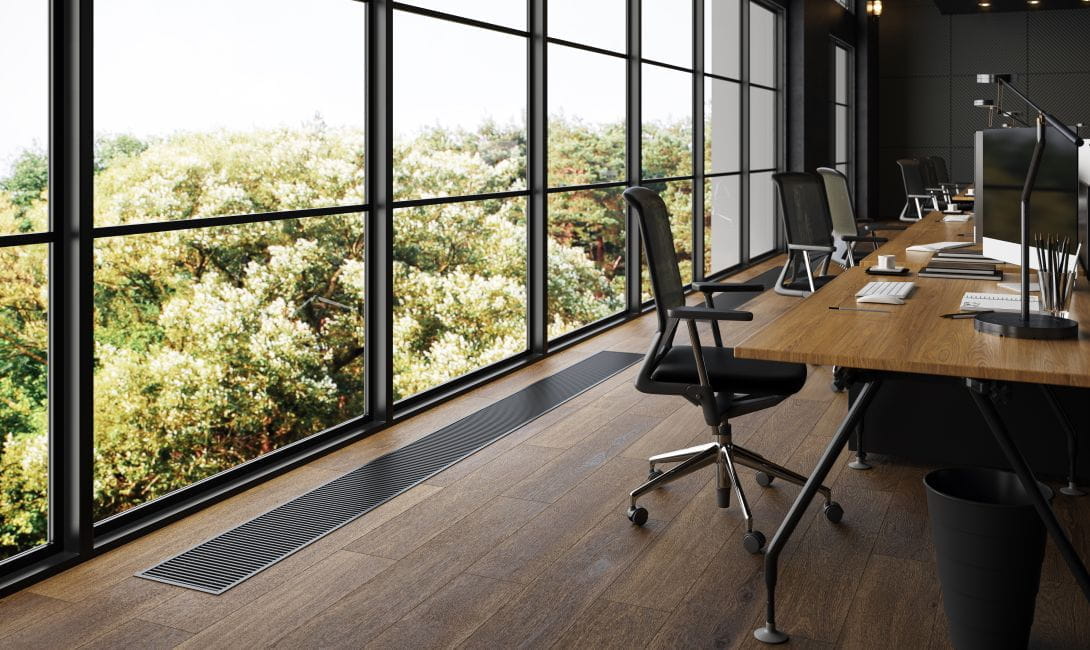 Downdraught
When the outdoor temperature drops, it cools down a building's façade, including the windows and doors. This creates cold surfaces, which in turn cool down the indoor air in their vicinity. As the air cools, it drops and creates a draught near the cold surfaces. To compensate for the downdraught, radiators are often placed beneath the cold surfaces since they create a heated airflow that counteracts the cold air coming in.
Hidden heating solution
But what with large windows? Although they maximise the amount of natural light and create an open, airy feeling, they also increase the surface that quickly cools down when outdoor temperatures drop and creates a draught. Since placing a radiator in front of a large window would be contrary to the reasons for choosing a large window in the first place, a better solution in this case is trench heating.

This means trench convectors are installed in the floor in front of the windows, where they create a natural barrier that separates the cold and warm air, minimizes heat losses and optimises the heating system's efficiency. On top of that, trench heating eliminates condensation on the glass surface, ensures an even heat distribution and creates a natural air circulation.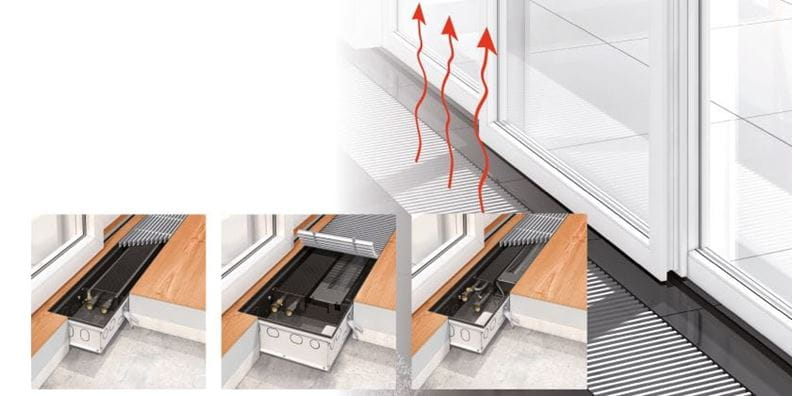 Flexible trench heating
The great thing about trench heating is that it's a very flexible heating solution. Floor fan convectors are available with integrated fan or without, as well as with both heating and cooling functions.
Trench convectors with adjustable fans
are most popular since they are able to provide up to four times more heat output, while keeping fan noise to a minimum. The number of fans is determined by the length of the convector and the required heat output.
On top of that, trench heating fits in seamlessly into the fabric of a building and saves a lot of space, which creates extra opportunities for the interior design. Instead of, for example, adding a
panel radiator
or a
design radiator
, you can opt for an extra design element that fits in perfectly with the rest of the interior or, if you like, stands out to create an eyecatcher.
Decorative grilles
The only visible element of a trench convector is its decorative grille, which covers the trench and coil elements. To ensure your trench heating matches the aesthetics of the room, at Purmo we offer a range of decorative grilles made of different materials, ranging from wood (oak or beech) to duralumin in a choice of colours. This way you can easily personalise your
Aquilo trench convector
or one of the
Aquilo trench fan convectors
to perfectly fit into any domestic or public environment.
Should you have further questions about trench heating, Purmo's trench convectors or heating solutions for large windows, don't hesitate to
get in touch
.