3 heating solutions for bathroom renovation
When renovating a bathroom, people often think about the general look and feel. Which colours will be used, what kind of flooring is the best fit and which style do they like for the sanitary facilities? However, when considering the layout of a new bathroom, it's important to also consider the heating, because what good is a beautifully renovated bathroom if you've got an old radiator that can't heat the room properly?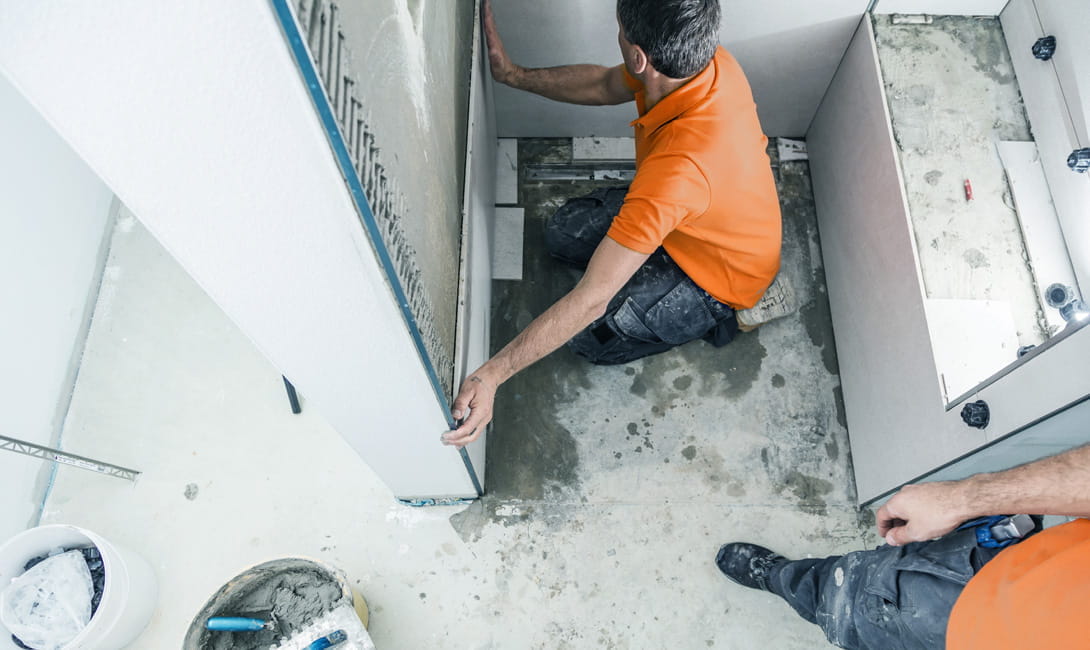 Moreover, a bathroom renovation is the best moment to question the heating system and get some bathroom radiator ideas. Or take some time to think about underfloor heating, which you can easily combine with an electric towel radiator to preheat and dry your towels and get that quick temperature boost in autumn or spring when the central heating is turned off. In case underfloor heating isn't an option, you can simply replace the existing radiator by a new one that perfectly matches the bathroom's new look and feel.
Specific heating needs
Before deciding on the best heating system for any bathroom, it's essential to understand that this room often differs from other rooms in the house. It tends to be smaller and, more importantly, has high levels of humidity, which creates the perfect environment for mould if the space isn't heated and ventilated properly. On top of that, a bathroom of course requires higher temperatures because nothing beats a hot shower at a pleasant room temperature and then wrapping yourself in a pre-warmed towel.
Futureproof bathroom renovation
As the average lifespan of a bathroom is about 25 years, it's also vital to future-proof your bathroom radiator ideas and consider possible changing heating needs as well as an optimised energy consumption. Your renovated bathroom might be fully functional and aesthetically pleasing now, but what about when you're getting older? Or possibly need a wheelchair to get around. Then you'll not only appreciate a raised toilet, for example, but also a towel warmer that allows you to reach for a towel at any height.
Heating solutions
In old bathrooms, the combination of tiles, porcelain, metals, etc. often makes it one of the coldest rooms in the house. Today, bathrooms are wellness oases. So, when doing a bathroom renovation, it's especially important to look at the various options for warming up the space while taking into account the size and layout of the room. To help you pick the most suitable bathroom radiator or heating system, we've listed a few ideas:
Underfloor heating:

for both new and renovated bathrooms this kind of heating has been continually growing in popularity. Not only because of the comfort it provides, keeping bare feet nice and warm, but also because wet floors dry out more quickly when there's underfloor heating. In addition, floor heating eliminates the need to find wall or floor space for a radiator.

Find your suitable underfloor heating system


Example of an underfloor heating system


Hydronic bathroom radiators:

depending on the size of the bathroom, towel warmers can be the primary heat source or function as an additional heating solution. Especially when renovating smaller bathrooms, towel rails are an excellent choice since they take up little space and double as towel storage. Moreover, there are various solutions that fit directly onto the old radiator connections, so there's no need for time-consuming pipe adjustments and the accompanying dirt and noise. Nowadays bathroom radiators are available in different materials, designs and dimensions so that they can be easily integrated in any bathroom style. Just think of the Figuresse assortment that comes in various trendy colours and attractive, unique shapes. The Figuresse bathroom radiators are easy to install and fit directly into the central heating system, so they can effortlessly replace an old heater. This way you avoid time-consuming pipe adjustments as well as the accompanying noise and dirt.

Find your suitable hydronic bathroom radiator


Example of a hydronic bathroom radiator - Elato


Electric bathroom heaters:

if during a bathroom renovation there are difficulties connecting the radiator to the central heating system, electric bathroom heaters can be a great alternative. They run on the electricity network and can even be connected to the output from solar panels, making it easy to use self-generated energy. Moreover, since an electric radiator allows for heat to be instant whenever it's needed and converts every watt of electricity into usable heat, this heating solution can help to save a considerable amount of energy and reduce running costs.

Find your suitable electric bathroom radiator


Example of an electric bathroom radiator - Ellipse E