Figuresse: modern bathroom radiators with an award-winning design and an eye for sustainability
The days when radiators were merely a practical necessity to heat a room are over. Now more than ever, radiators can give that finishing touch to the look-and-feel of an interior. This certainly applies to areas such as the living room or kitchen, but especially to the bathroom. The
Figuresse modern bathroom radiators
provide the perfect answer with a mix of modern design trends and performant yet sustainable materials.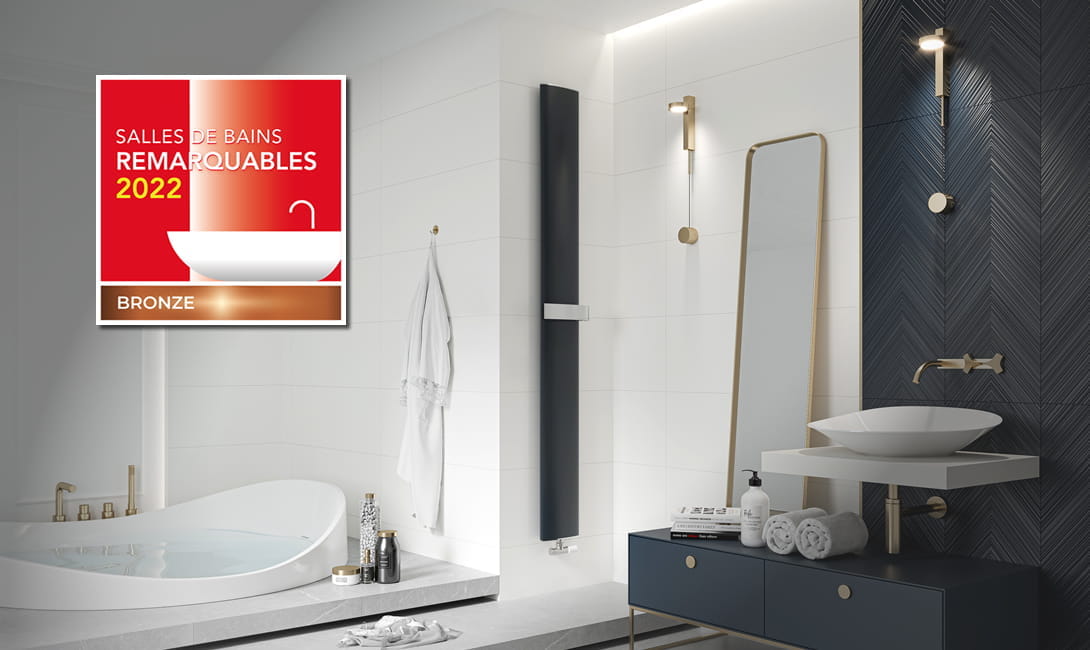 Modern Figuresse bathroom radiators
Modern bathroom radiators have to be able to provide the extra heat that's needed to create a cosy warm bathroom, but they also need to meet the demands of design-oriented consumers. The Figuresse range does just that with 9 designer radiators that display sleek lines, flat shapes and creative, daring silhouettes. Since they are standard available in three trendy colours; white, matt jet black and matt anthracite grey, these modern towel rails offer a perfect match for every bathroom interior. Other RAL colours are of course available on request.
Award-winning design
The fact that Figuresse is a good combination of functionality and style was recently confirmed when one of the nine modern bathroom radiators won an award for most remarkable bathroom product. In France the 'États Généraux de la salle de bains', formed by 5 professional manufacturer unions on the national market, awarded the 2022 bronze trophy in the category 'Functional Radiator' to the
Slim
bathroom radiator.
Compact bathrooms
One of the reasons that Slim won the award is its sleek, narrow design that allows for the installation of a large bathroom radiator in even the most compact of bathrooms. With all the sanitary facilities needed in a bathroom it can sometimes be a challenge to find enough available wall space to install a modern bathroom radiator. Slim, however, is only 26 cm wide and will fit in very small spaces that would otherwise remain unused. On top of that, it comes with a towel rail so it can also preheat and dry bath towels effortlessly.
Sustainable materials
Most of the bathroom radiators in the Figuresse range are made of steel profile, which is a strong and durable material that can easily be recycled. The Slim radiator, on the other hand, is made of 100% recycled aluminium. As aluminium is an infinitely recyclable material and requires significantly less energy to recycle than to produce primary aluminium, Slim also contributes to limiting CO2 emissions.
Modern bathroom radiators that are easy to install and use
On top of their contribution to the environment, the Figuresse radiators also contribute to an optimal comfort for both installer and end user. Each of the designer radiators comes with a simple and user-friendly control and most models, including Rasp, Twist, Ellipse, Impulse and Squasy, have a classic centre connection for an easy installation. Moreover, Twist and Gate are rotatable so that the left and right versions are combined in the same radiator.