How does bathroom humidity affect radiator installation?
A radiator is a great means to achieve indoor climate comfort. Especially in a bathroom where a few extra degrees can make all the difference to start or end the day well. However, rooms with a humid atmosphere, such as private bathrooms or (public) showers or toilets in sports facilities, require a bit more planning when it comes to radiator installation. To guarantee longevity, factors such as spraying areas and sufficient ventilation must be taken into account.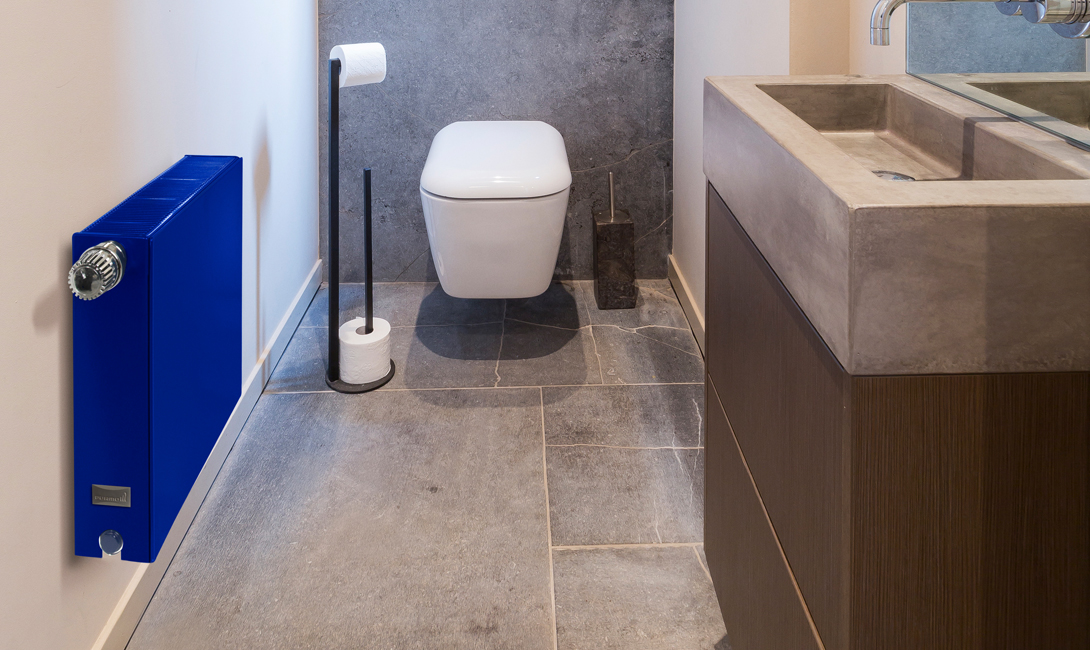 Radiator installation affected by bathroom humidity
The presence of spray water and the possibility of condensation in rooms such as a bathroom, toilet, etc. requires some extra thought when it comes to radiator installation. In order to protect the radiator against the spray of water or condensation, the DIN 55900 standard must be adhered to. Only then can we speak of a correct radiator installation and can the product warranty be invoked in case of corrosion.
The DIN 55900 standard addresses adequate coatings for space heaters. For this purpose, a distinction is made between radiators installed inside and outside the spraying area. This area, zone 3 in the illustration below, is defined as the distance of at least 60 cm in all directions around sanitary objects such as a toilet, urinal, shower, bathtub, etc. Whenever possible, radiators should be installed outside the spraying area. In that case the standard coating is sufficient and the radiator will not be affected by bathroom humidity.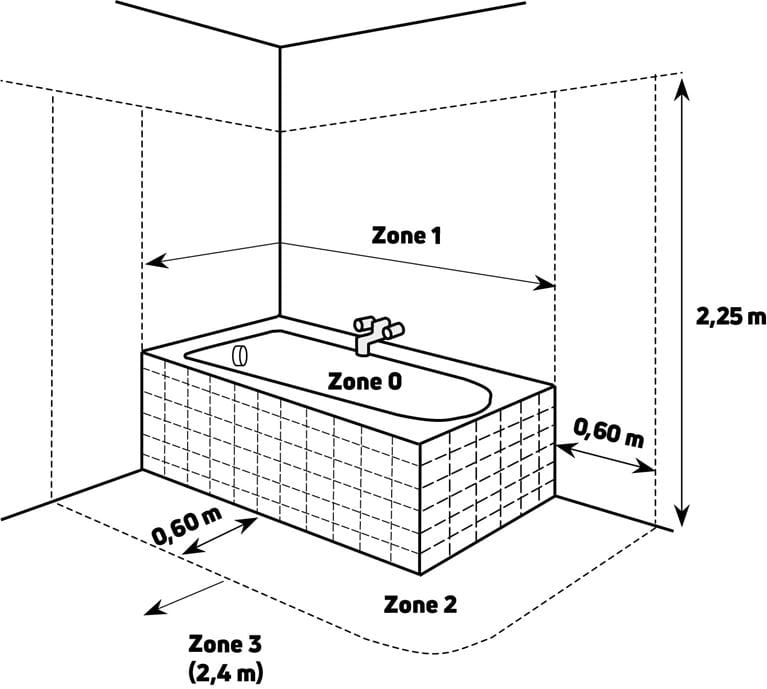 If the DIN 55900 standard is not taken into account and a radiator is installed within the spraying area (zone 2), it's important to note that no warranty claims are possible if corrosion phenomena occur on the radiator. However, in certain rooms it may not be possible to install the radiator outside the spraying area due to, for example, a limited surface area. In that case, we offer a galvanic zinc coating for profiled radiators or an additional 2-component acrylic coating for flat-fronted radiators in private bathrooms and guest toilets, for example.
For our Delta column radiators we also offer a robust hot-dip galvanised solution for extreme applications such as shower facilities in sports venues. For these special applications we offer a 6 year warranty.
Bathroom humidity and regular ventilation
In addition to the correct placement of a radiator, it's also important to consider adequate ventilation of the room, especially when it comes to wet or humid spaces such as bathroom. This will help to limit the bathroom humidity and condensation levels to a minimum.
As windows improve and help to increase energy efficiency, care should be taken to always properly ventilate the room and possibly provide forced ventilation. It is also particularly important that radiators are turned up in winter time, because cold heating surfaces that are switched off act as cooling surfaces on which the humidity in the room air can condense, which can lead to corrosion.
If you observe the DIN 55900 standard in the early planning phase and plan for special solutions, your customers will be able to enjoy their radiators for a long time.
Should you have any further questions about radiator installation in bathrooms or other rooms, don't hesitate to get in touch. We will be happy to assist in any way we can.