Unisenza: easily installed controls for radiant heating and cooling systems
While most radiant heating and cooling controls are primarily focussed on ease of use and simply maintaining the selected room temperature, Purmo's new Unisenza control range has been developed to support designers, installers and end users with a unified product range that's just as easy to install as it is to use.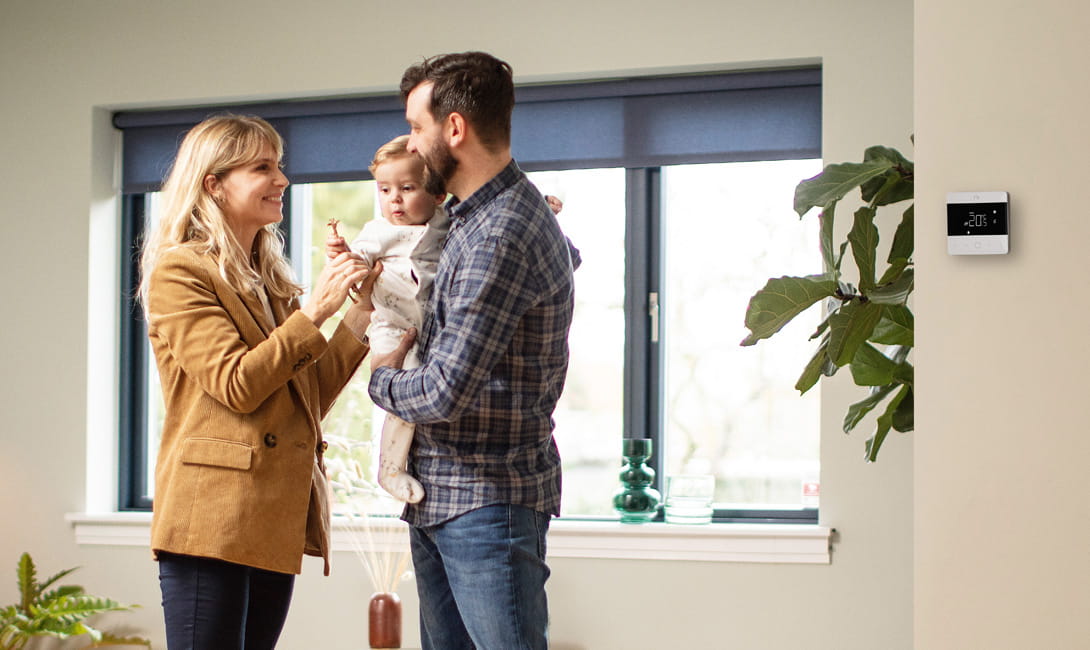 3 different thermostats
Unisenza
represents a complete, unified control solution that ensures a unique sense of comfort and efficiency with high-quality products that provide heat control tailored to the end consumer's preferred user experience. To this end, the range includes three different thermostats: a simple
electronic dial thermostat
, a modern
digital thermostat
, and a
WiFi thermostat
with clock and plug & play APP control. Each thermostat allows you to control both heating and cooling so that you can relax and enjoy optimal indoor comfort in every room each day of the year.
Regardless of which product the end user chooses, the hard-wired thermostats are easy to install and suit the majority of installation requirements where cables are the standard procedure. The dial thermostat suits on-wall direct or on-box mounting, while the digital thermostat and WiFi thermostat fit the vast majority of EU and UK back boxes. Thanks to the variety in this innovative product range, a large number of application solutions can be combined with just a few components, ranging from a simple room temperature control only to an APP- and time-controlled heating and cooling control.
Wiring centre
At the heart of the Unisenza control system is the
wiring centre
which takes its signal from the room thermostats and then opens each thermal actuator accordingly. The wiring centre is available in 2 versions: 230V and 24V. The standard 10-zone unit will fit most applications and manifold sizes. Per wiring centre up to 20 actuators can be installed so that larger systems pose no problem at all.
The pump delay selector allows the individual circuits to open before circulating to prevent wear and noise from the pump and the pump exercise function allows the pump to be exercised for 5 minutes every 24 hours to prevent pump seizures following long dormant periods e.g., summer shut off. Combine this with the volt free signal that enables switching of a wide range of generators and you've got a user-friendly product that can be installed in no time at all.
Thermal actuator
In addition to the thermostats and wiring centre, the Unisenza range also includes a range of thermal actuators that can be fitted in multiple orientations depending on the manifold or valve location, whilst maintaining IP54 in all. The valve arrives fully open to further facilitate the installation which is very straightforward thanks to the instructions printed on the box.
The thermal actuator is available both as a 230 V and as a 24 V variant. Thanks to the supplied adapter, a simple push & click assembly further facilitates installation. Adapters for almost all third-party valves are also optionally available. The low power consumption (< 1W) that allows for energy savings and compliance with various energy directives underlines the overall concept of the Unisenza product range.
Maximum comfort, safety and energy efficiency
The Unisenza control range is fully compatible with all
underfloor heating system
types and all heating/cooling generators (heat pumps, boilers, etc.). No matter the heat source, the control system will quickly respond to every change and adapt easily to guarantee efficient radiant heating and cooling. An extended warranty of 5 years applies, provided that the Unisenza products are used as a unified system.