Replacement of old radiators
Radiators have a long lifespan. In fact, radiators are so durable that we have even started painting them, replacing their thermostats and fittings, and covering them in wood panelling to fit the rest of our interiors. However, all good things must come to an end — even the life of a radiator.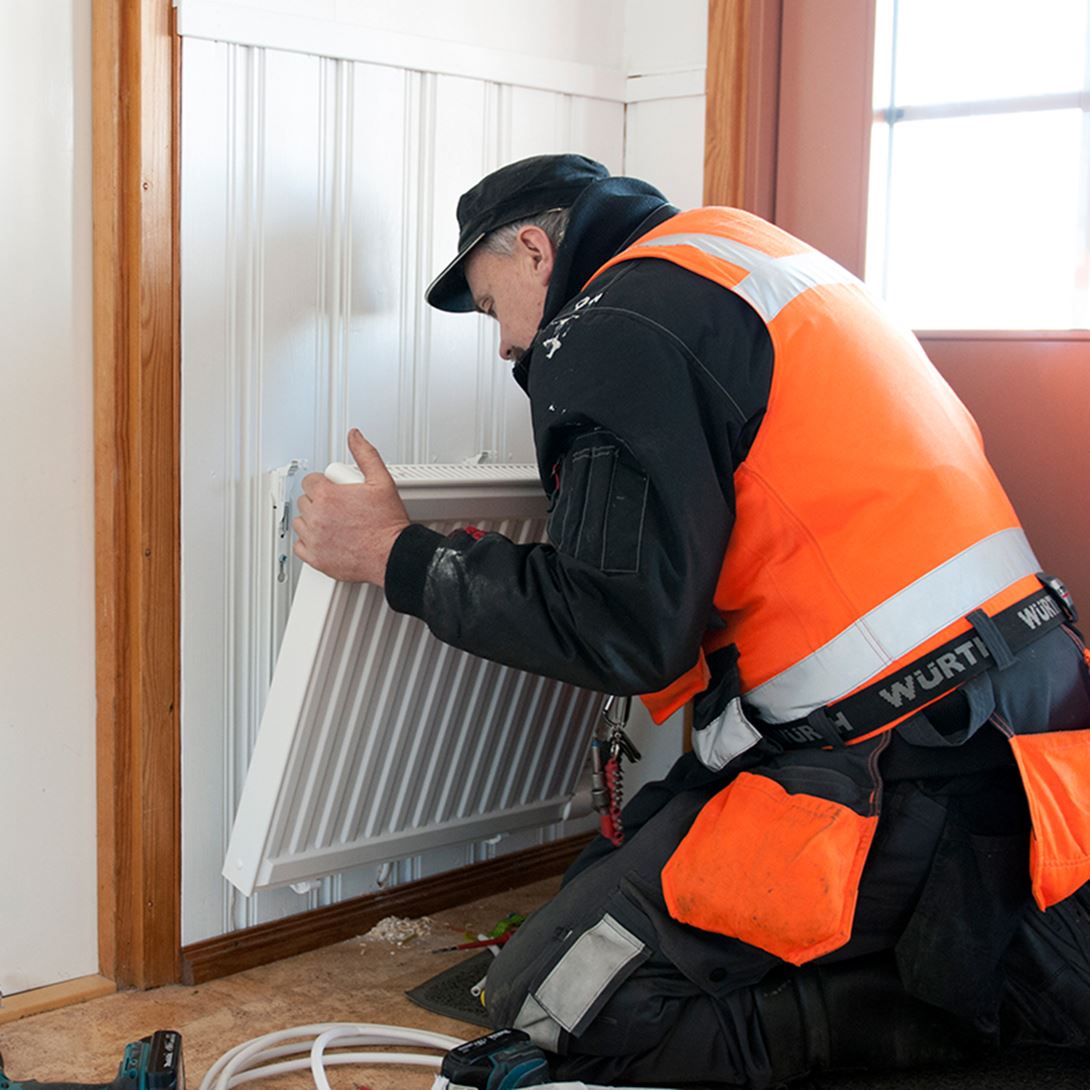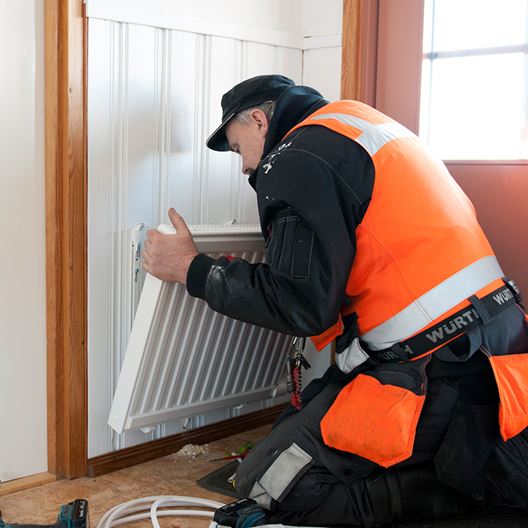 Whether your radiator is electric or connected to a central water heating system, there are certain things that you should keep in mind before looking for a replacement.

Whatever you decide, however, always be sure to consult an electrician (for electric radiators) or a plumber (for water-based radiators). They will be able to advise you about the size and connection requirements of your replacement radiator.
With this in mind, here are a few things to keep in mind before buying and installing a new radiator.
Replacing water-based radiators
Tips for replacing water-based radiators
Replacing a radiator is not just about selecting an option that will reduce your energy bills but also about aesthetics. A professional can recommend a radiator that will both heat your space and fit your existing décor.

Today's modern radiators are both energy efficient and designed to connect to innovative low-temperature systems. Radiators should be sized according to the heat source — such as a ground source heat pump or an air-to-water heat pump — to be energy efficient. There are models out there to suit every space and budget.

It is usually possible to paint the elements on a water-based radiator — but we don't recommend this out of hand. If you want a radiator that goes with your existing colour scheme, Purmos radiators are available in over 70 different hues. It's as simple as choosing your colour.

Replacing a water-based radiator shouldn't be a big deal
Radiator replacement by a professional is usually quick and easy. If the distances between the heating pipes fit and the valves are designed according to standards, the installation engineer can complete the job in around an hour — even if there is still water in the system.
Nevertheless, two problems can occur:
The pipe spacing doesn't fit. Flexible production facilities make it possible to manufacture radiators with customised pipe spacing at a small extra cost. Alternatively, in cases of small deviations in pipe spacing, the craftsman can install spacers. In the case of larger differences, however, changes need to be made to the piping itself.
The shut-off valves are missing. The installation engineer can put a cooling sleeve around radiator pipes and connect them to a special chiller. This freezes the water in the pipe allowing the radiator to be replaced. New shut-off valves can also be fitted while the water is frozen.
Can I change a water-based radiator by myself?
We recommend that you always call in a qualified professional when replacing a radiator. This is because the replacement of water-based radiators must be carried out professionally in order for the household insurance to take effect in the event of damage. If you know which radiator model you want, you can also buy it online, but it is always worth asking an installation engineer about the best model for your space.
What is often overlooked when buying radiators online is how they will connect to the heating water pipe and how they will be mounted on the wall. It is important to remember that these usually vary from model to model.
While water-based elements can be easily replaced by a plumber, the process requires preparation. The water should be turned off and each radiator shut off with a shut-off valve. Ideally, the water should also be drained from the radiator before a plumber carries out the replacement.
Replacement of old water-based radiators in family homes increases energy efficiency
A water-based radiator is often made entirely out of steel, which makes it extremely durable. Small scratches in the paint can be easily repaired, and if you vent and dust the radiator, you can go decades without needing a replacement. But just like other renovations, such as upgrading your kitchen cabinets or wallpaper, you can easily replace radiators.
Radiators have come a long way since the clunky heating elements of 50 years ago. Early steel panel types had a flat panel design with a high water content (A). This was followed by the introduction of convector plates between the water channels, which increased the heat output (B). Over the years, it was discovered that the heat output could be increased even further by reducing the water content and bringing the sheets into contact with the warmer ducts (C). However, it was only by flattening the channels into today's optimised hexagonal shape that the heat output could be fully optimised by maximising the contact area(D).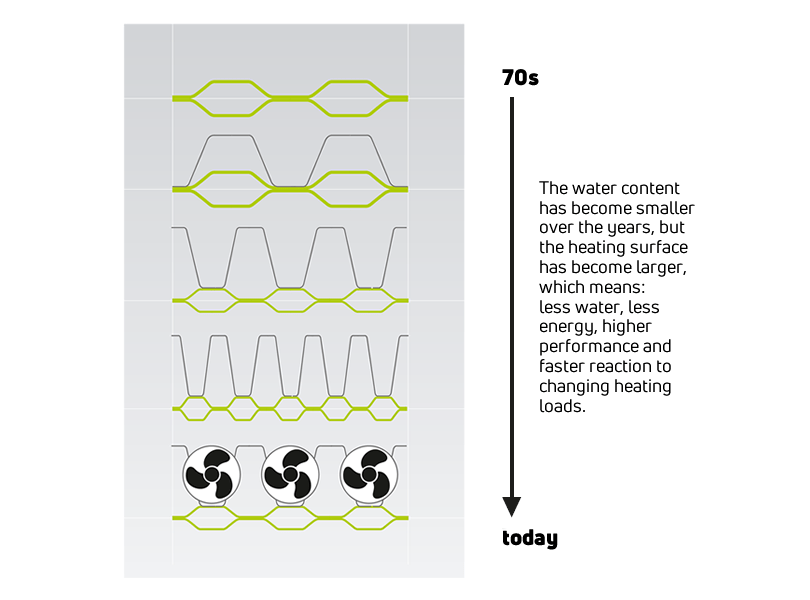 Today's radiators are up to 87% more efficient than their predecessors, and yet there are many who still cling to radiators that became obsolete decades ago.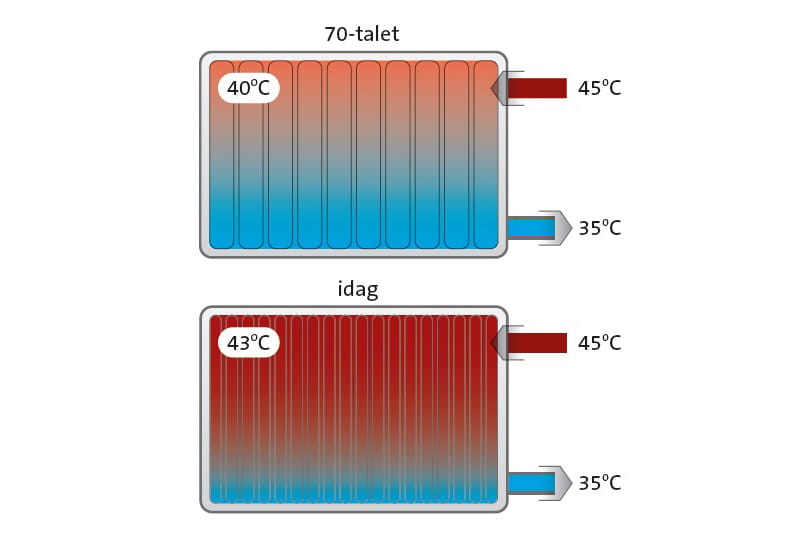 During renovations of a private home with a water-borne heating system, radiators are often left completely untouched. However, to a professional, it is clear that their pipes or parts of the pipes and the thermostatic head require replacement. But the old radiator is left behind.
However, if the oil boiler is replaced by a geothermal heat pump or another low-temperature system, it is extremely important that the radiators are also checked. This is because in the vast majority of cases, they need to be re-sized to ensure optimal performance.
Old style radiators don't perform optimally when connected to low-temperature systems. On the other hand, appropriately sized radiators in low-temperature systems offer energy savings and increased comfort. This is particularly profitable if a heat pump is chosen as the heat source, but district heating also benefits from low return temperatures.
Replacing an old single panel radiator with a new type 11 radiator of the same size increases the heat output by around 60 %. And if you replace an old double-walled panel radiator with a new type 22 radiator, you will get a 50 % increase in heat output.
By switching to more efficient modern radiators, the temperature of the hot water in the system can be reduced by 10 °C. The coefficient of the performance of the heat pump improves by about 2 % for each degree of water temperature reduction. Therefore, in this case, this would mean a 20 % improvement in performance. If further improvements are made to the house, the temperature in the system can be lowered further, resulting in an even better performance.
Old style radiators
Some people don't replace their old radiators because they want to maintain the vintage style of their homes. However, there is a wide range of retro radiators available for just this purpose. They are made with modern technology but meet the criteria of a vintage-style radiator. One such example is the Purmo Delta.
The second problem with old radiators is the lack of regulation shut-off valves. Luckily, this can be solved by placing cooling sleeves around the pipes and connecting them to a special chiller. This freezes the water in the pipe letting the installation engineer replace the radiator. And the prescribed shut-off valve can be fitted at the same time.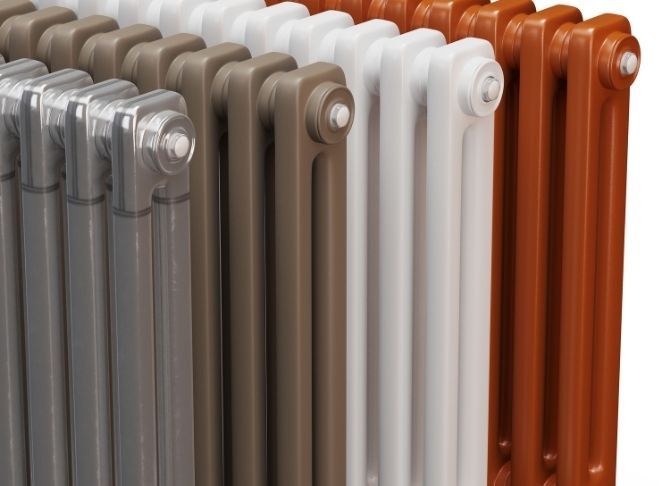 Replacing electric radiators
Replacing old electric radiators
Electric radiator replacement is easier than many people think. You can replace all electric radiators in a small house in around a day. If the model is easy to set up, an experienced installer can install one or more elements in an hour. However, given the various problems that can occur, it isn't uncommon for the installer to charge for an hour's work per element. This also depends on whether they work alone or with an assistant.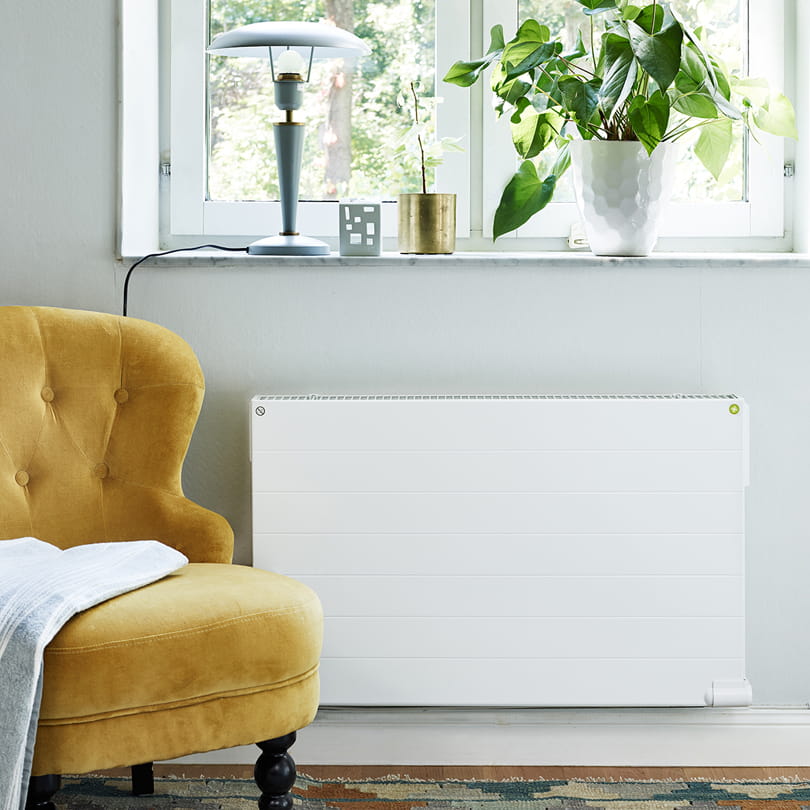 Can you replace electric radiators yourself?
You can only replace an electric radiator yourself if it comes with a plug. Kaba P comes with a plug and floor brackets so it can be easily used as a portable unit. A simple temperature controller makes it a straightforward choice for areas of the home that sometimes need a little extra warmth. Otherwise, you should always consult a specialist dealer or an electrician before planning to replace an electric radiator yourself.

It's extremely important that all fixed electrical installations are carried out by a qualified electrician. A professional will also help you determine the correct heating capacity of the radiator. If you haven't insulated your house and the heating is working well, you can check the wattage of your old electric radiators yourself. This information can be usually found after loosening the wall brackets on which the radiator has been installed.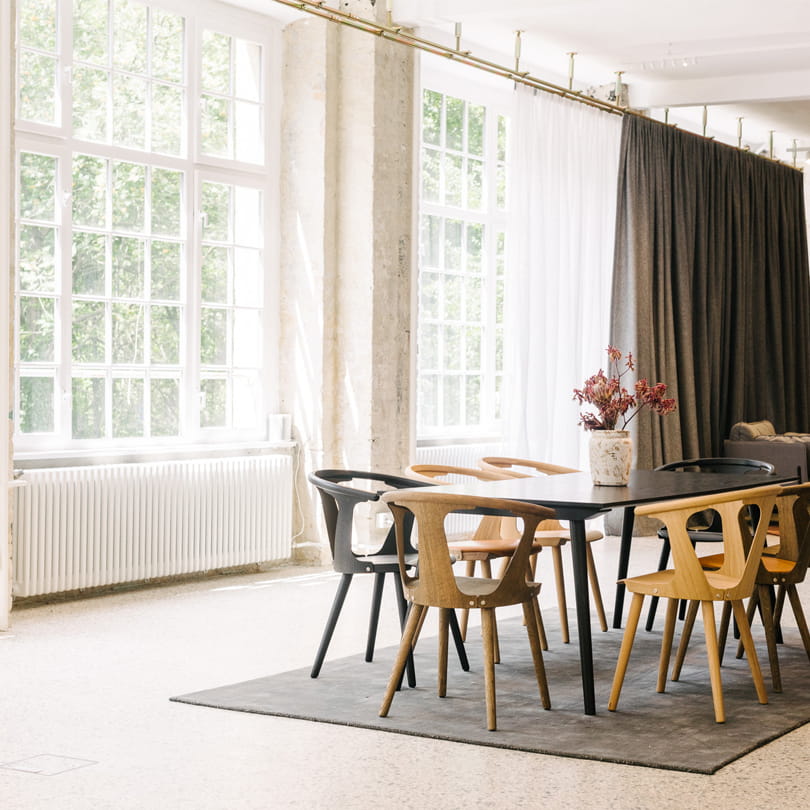 Replacing electrical elements
Replacing old electric radiators with modern radiators with electronic thermostats in a family home isn't overly tricky. In fact, it can be normally done in a day.
Old electric elements burn dust and can even pose a fire hazard. As such, indoor air quality is improved by changing old electric radiators with their modern counterparts. And among electric radiators, there are stylish modern solutions for both retro and contemporary interiors. All you need to do is find a solution that suits your heating system and heat source. Why not let Purmo's renovation tips inspire you.
Cost of replacing radiators
The cost of replacing radiators can be divided into the products and installation. Luckily, it can usually be offset by lower energy costs. Ask your trusted plumber for a cost estimate.
Replacing radiators in flats
If you live in a block of flats, be sure to check with the owner of your flat or the housing association before replacing your radiators to find out about any applicable regulations. They will also know if there are any existing plans to replace them.