Energy-efficient heating and cooling with zone temperature control
The majority of residential buildings and private houses across Europe still have a heating (and cooling) system that's based on the on/off control of a single zone. However, this often fails to create thermal comfort in every room and wastes energy by heating or cooling unoccupied rooms. Zone temperature control offers a practical solution that increases comfort for all occupants and helps to save energy at the same time.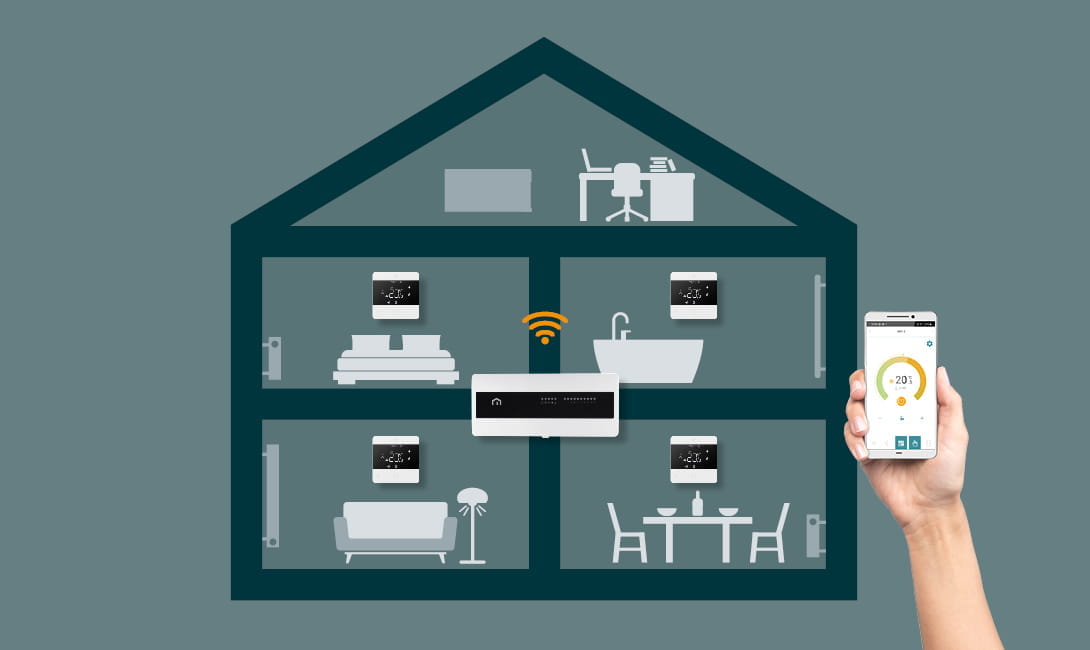 What is zone temperature control?
Instead of just one thermostat that controls all the heat emitters throughout a building, zone temperature control combines multiple thermostats, each controlling the temperature of a specified zone. This way different areas can easily be set to different temperatures.
Our Unisenza control range, for example, includes a wiring centre that can be connected to up to 10 different room thermostats. This allows users to set their desired temperature based on personal preferences for each individual room. On top of that, you can more easily focus on specific areas, such as a living room or kitchen, and minimise heating and cooling in rooms that aren't being used.
Comfortable, energy-efficient heating and cooling
The ability to heat or cool specific rooms has two key advantages. On the one hand, custom zone temperature control allows users to create their ideal level of comfort in every zone. You can easily set a different temperature for the living room or kitchen, for example, without affecting the temperature in other zones. Or when cooling is needed in summer, a zone control system allows you to cool only the rooms upstairs, which tend to be warmer than those downstairs. Using clock thermostats such as the Unisenza WiFi thermostat even makes it possible to set a different heating and cooling schedule for different rooms based on the users' typical daily or weekly activities.
The second great advantage of zone temperature control is the energy and money that is saved. By adjusting the thermostat in zones that are not or seldomly used, energy is not wasted on unoccupied rooms. You can simply close off any unused zones so that you only consume energy where and when heating or cooling is required. If the Unisenza WiFi thermostat is installed, it's even possible to pair it with the intuitive Unisenza app and control the ideal room temperatures, time programs or other settings wherever and whenever you want. Within the app users can also activate geo-location, a feature that uses the smartphone's location to determine the users' movements and then automatically adjusts the temperature setting to maximise flexibility and energy efficiency.
Estimated energy savings with zone temperature control
To make it more concrete, we ran a simulation comparing a base control system with a zone control system in a house structure with four rooms of 25 m2 each, all equipped with a radiator. In the simulation every room exchanges heat with the environment through its exterior walls, roof, and windows. Each path is simulated as a combination of a thermal convection, thermal conduction, and the thermal mass. It's assumed that heat is not transferred internally between rooms. The heater consists of a furnace, a boiler, an accumulator, and a pump to circulate hot water in the system.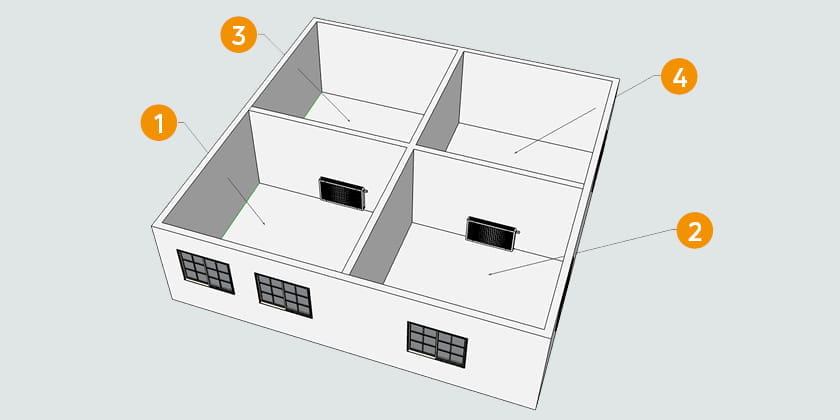 The base control system has a single thermostat installed in room 1, which is the coldest as it has more windows. For the zone control system the house is split in 2 zones of 2 rooms, with a motorised valve and a thermostat for each zone.
The simulation shows that when the thermostat of a base control system is installed in the coldest room, the other rooms are overheated. With a zone control system the situation improves. With regard to energy cost, a gas cost of € 0,34/standard cube meter is applied. The daily cost of the base model to keep a constant temperature of 20°C amounts to € 1,70, whereas with the zone control system this is € 1,50. In other words, a zone control system allows for 12% savings in energy costs.
zone control vs.

base model

E-TRV vs.

base model

E-TRV vs.

zone control

Energy saving
12%
24%
13%
Taking zone temperature control to the next level
In addition to a comparison between a base control system and a zone control system, our simulation also includes an eTRV control system in which each radiator is equipped with an electronic thermostatic radiator valve such as the ones that are included in our upcoming Unisenza Plus control range. These can easily be connected to the Unisenza Plus Gateway, which in turn can be connected to a user-friendly smartphone app. This allows users to monitor and control all the heat transfer systems linked to the app wherever and whenever they want. The eTRVs can, for example, be linked to a thermostat for precise temperature control and optimal comfort. Moreover, because the electronic thermostatic radiator valves are completely wireless, they are easy to implement in new builds as well as renovation projects to update the existing system.
The simulation shows that an E-TRV control system, which perfectly aligns all devices, allows for significantly greater energy savings with a daily energy cost of only € 1,30. That is a reduction of 24% compared to the base control system and 13% compared to the zone control system. Moreover, there is no longer any overheating in the rooms and the E-TRVs ensure a proportional control of the water flow.
If you want to know more about the possibilities of our Unisenza or Unisenza Plus control range, don't hesitate to contact us or visit the dedicated campaign page.